SOLD - Winnower & Cracker – New Orleans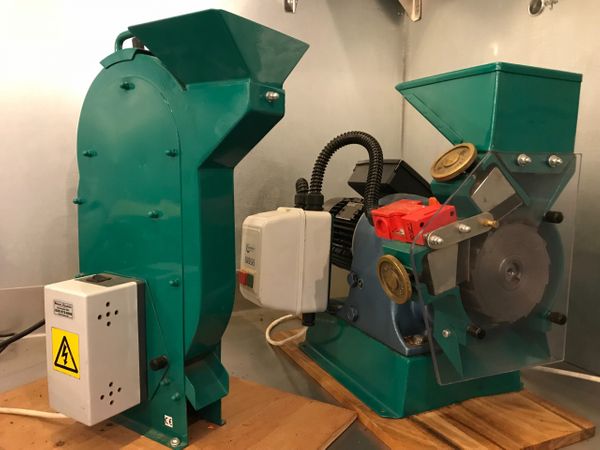 $4,600 or best offer.
Make cacao nibs with the whole bean – raw or roasted – Cacao Breaker that is rapid fast at moving thru lbs and Winnower that separates the broken shells from the nibs, with pneumatic air flow.
Beautiful are these units, compact and lightweight easy use! Together, they can achieve results in a few minutes and it gives consistent results time after time. Any size of sample can be treated from a few beans to a small batch run.
Good in a chocolate lab or teaching Bean to Bar class, a storefront And transportable if needed
Gently used for our Cacao Farm in Dominica to test flavor profiles of different bean genetics and make bean to bar chocolate. We have sold the farm and have this ready to ship out for you.
SPECS;
Gordon's (CPS) Limprimita Cocoa Breaker fitted with 0.25kw electric geared motor, starter and safety cut out switch for 110 volt1 phase supply 60Hz
Gordon's (CPS) CC1 catador winnower for cocoa complete with motor and switch single phase 220v 50Hz, supplied with UK-USA plug in voltage adaptor for 110-1-60hz supply
Originally shipped from UK Manufacturer $6,180 (have paperwork).
4,600$ Asking_ or best offer.
Shipping is out of New Orleans, Louisiana
Also selling; Fair Trade/Certified Organic Belize Cacao Beans 7$lb/ _150b Bags available. Please inquire for samples.
​
---
Archived Comments
---
reply toYes, that will be appreciated.
harvestfreshfinish@gmail.com
Thank you 😊
---
Yes they are! They are like new! I am
Happy to send you a little video of them in action. alexciaceae@gmail.com
530-9551002
---
Hi, are the two units still for sale? How old are the machines and in what condition are they in? Thanks
---
Hi There- I am interested in this machine. Can you please send me an instruction manual for it (jacqueline@jacekchocolate.com)? Many thanks, Jacqueline