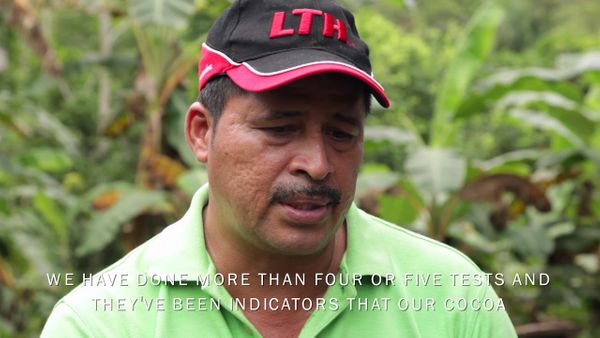 Lutheran World Relief Launches the LWR Regional Cocoa Flavor Map of Small Central American Producers
The LWR Regional Cocoa Flavor Map, an innovative initiative documenting the distinct flavor profiles of cocoa produced by Lutheran World Relief farmer and cooperative partners in El Salvador, Nicaragua, and Honduras, is being unveiled at the Salon du Chocolat 2017, an international trade fair for Oct. 28 to Nov. 1 in Paris.
The LWR Regional Cocoa Flavor Map will help cocoa producers better connect with buyers of fine and specialty cocoa, who will be able to quickly identify the sources for the cocoa flavors, profiles and characteristics they are seeking.
LWR, with support from the World Environment Center (WEC) and U.S. Department of State, as well as COSUDE (the Swiss Agency for Cooperation and Development), started this initiative more than a year ago in partnership with ZOTO, a Belgium-based cocoa consultancy, and in collaboration with the Guittard Chocolate Company and Cocoa of Excellence. In Nicaragua, the Flavor Map has received additional support from PROGRESA CARIBE-USDA project, Catholic Relief Services (CRS) and SNV.
Despite strong global demand for cocoa, producers from the developing world often struggle to capture just a fraction of the crop's full market value. LWR, through its Ground Up initiative, assists cocoa producers by helping them to innovate, improve the quality and post-harvest processing of their crops and facilitate access to markets where they can benefit from the full value of their cocoa.
Dr. Zoi Papalexandratou, Lead Cocoa Advisor for ZOTO, said the Flavor Map will open doors of the international chocolate market to these Central American farmers and their cooperatives, and will highlight the distinctive flavors of their cacao.
"The main scope of the project was to create a visual tool that illustrates the flavor diversity at the coop level, in some cases even at cocoa blend level, as this was perceived through official tastings of the Cocoa of Excellence and project team," she said. "We considered that just geographical mapping of the new products would not be enough. Nowadays you find *flavor guides* in order to choose the gin, whisky or tonic that fits best your taste. That's why we decided to accompany sensory data with quantitative data so we can support the subjective evaluations with concrete scientific objective measurements.

"This whole dataset gives us the possibility to correlate all the samples statistically and discover their actual organoleptic similarities," she said. "Such a cocoa flavor guide can help a chocolate maker select lots from different locations that express similar notes."
Thanks to the Flavor Map, farmers and cooperatives can now demonstrate an ability to offer customer-driven solutions, as well as to adopt a more knowledgeable post-harvest approach. The flavor profiles can document the impact of small adjustments in processing on final cocoa quality as producers are trained to use laboratory equipment and perform qualitative analysis.
For the chocolate maker, the benefits of a tool like this include the ability to obtain exclusivity on special (micro-)lots, to purchase lots that exactly cover their needs, and increased knowledge, transparency, and traceability of the whole processing process.
The final objective of the Cocoa Flavor Map is to help cooperatives and farmers work in a more sustainable way and to increase their income by offering diverse high-quality products. To view the Cocoa Flavor Map, visit CocoMovil.
---
Archived Comments
---
A related news article:
https://www.confectionerynews.com/Article/2017/11/24/Central-America-cocoa-flavor-map-opens-doors-for-chocolate-market
---
@foodensity – I think that this foundation is more interesting, in many ways, than awards programs.
---
Thanks for sharing this news, Clay. I know the quality of cacao from El Salvador and I wish these specialty cocoa microlots from select Central America origins will be better recognized for their great flavor by chocolate makers.