Reinventing Himself & His Chocolate: Oded "Max" Brenner Opens NYC's Blue Stripes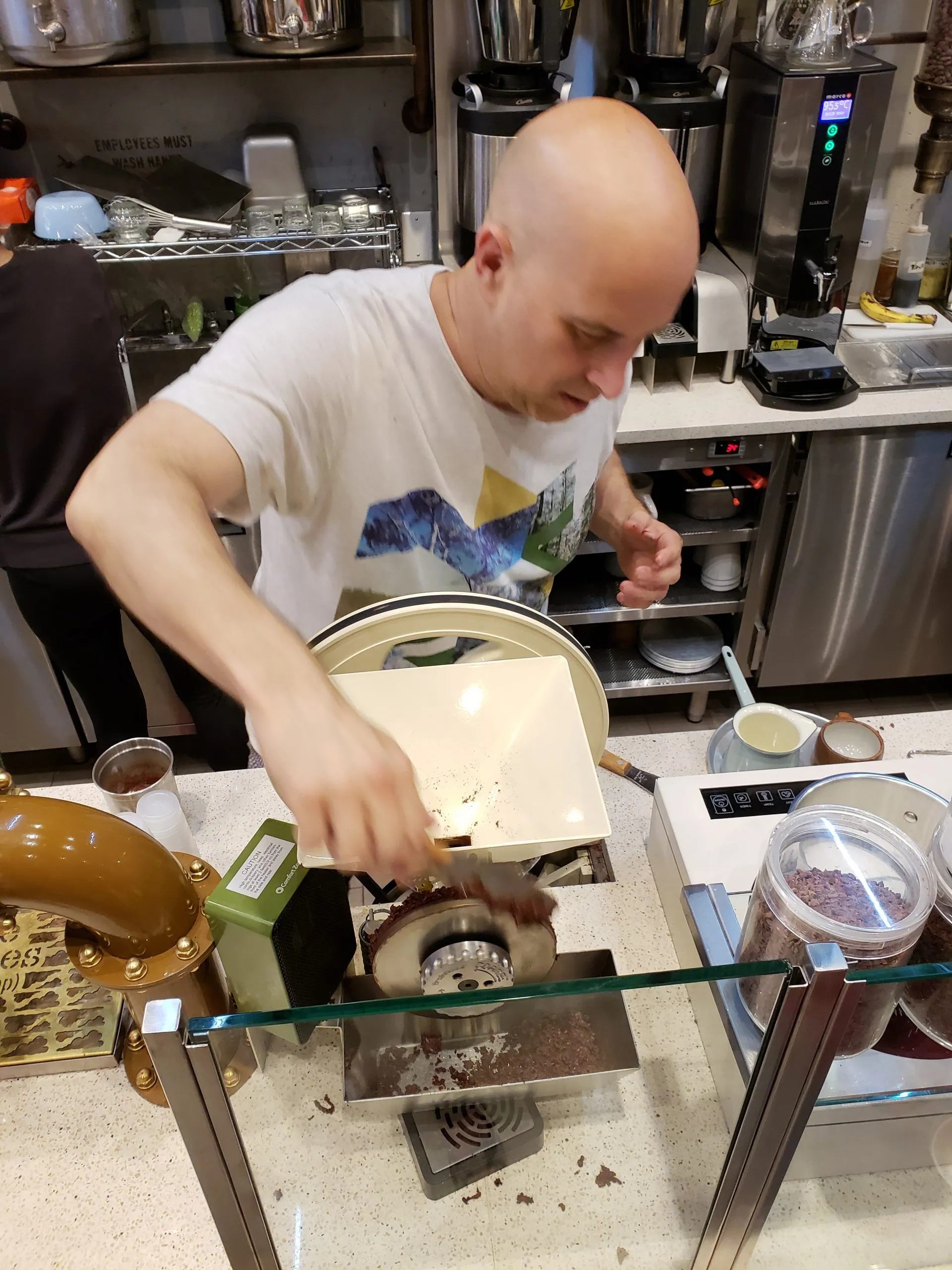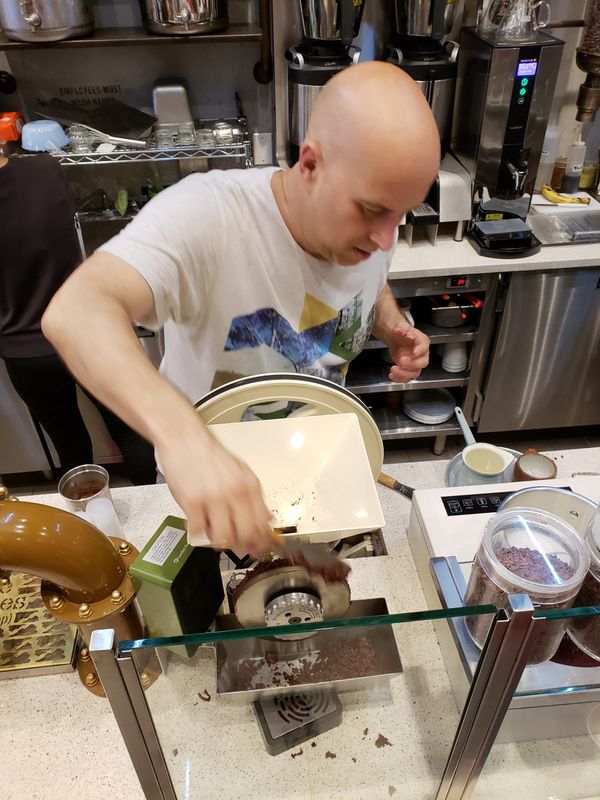 I had a lot of chocolate cafe envy walking into Oded Brenner's new chocolate shop in Union Square. Open for six days at the time of my visit, Blue Stripes is a small, unassuming cafe for someone with Brenner's history.
His first venture, Max Brenner: Chocolate by the Bald Man, felt like Willy Wonka come to life. It was a celebration of the experience of enjoying chocolate in a carnival-like atmosphere. Contraptions and pipes moved chocolate around the store while customers enjoyed dishes like Chocolate Chunks Pizza, Candy Bar in a Jar and Chocolate Syringe.
Where Max Brenner is an amusement park of chocolate, Blue Stripes is an ode to cacao and chocolate authenticity.
Why the change? Brenner split with the investors in Max Brenner in 2012. He started a chocolate & coffee shop in Brooklyn in 2012 and was promptly sued by his previous investors. A non-compete agreement prevented him from getting into chocolate-related businesses for five years. Only now is he able to move forward with his chocolate dreams, backed by First Foods Group.
Like a kid in a candy shop, Brenner was full of exuberance and passion for chocolate and cacao when we arrived. I recognized him right away because of his bald pate, truly the embodiment of chocolate by "the bald man" as Max Brenner's tag line proclaims.
The first drink he poured was a chocolate "cloud". On tap like a beer, a chocolate cloud is a sweet, cold, foamy "cloud" of chocolate that tastes like the lightest, airiest chocolate milkshake you've ever tasted. It was delicious and hit the spot on a 100 degree, muggy New York day. Next he grabbed a bin of cacao nibs from Vietnam (Madagascar and Ecuador were also available). He put a few tablespoons into a small grinder and scraped off the rough chocolate liquor as it came out the bottom of the grinder. He added condensed milk and water and served us a hot drink in a traditional chocolate pot.
Next up, bean-to-bar chocolate that is made for him by a local chocolate maker. We tasted the milk chocolate version of this roughly-ground chocolate. It's reminscent of Taza Chocolate's "Stone Ground" style and of Soma Chocolate's Old School bars. I noticed a distinct banana note in this wonderfully-crafted chocolate. I purchased the dark chocolate version to take back to Chocolopolis so my team and I can try it for ourselves.
I have to thank Art Pollard of Amano Chocolate for letting me tag along to Blue Stripes with him and Sander Wolf of the Dallas Chocolate Festival. The three of us were headed to dinner after the Fancy Food Show (I was in NYC for the Fine Chocolate Industry Association meeting), but Art said we needed to stop first at Blue Stripes.
​
I had no idea what he was talking about. He said, "It's a new store by Max Brenner, but his real name is Oded." It turns out that Max was the first name of Brenner's original business partner, so they combined names to form the Max Brenner concept.
Where does the name "Blue Stripes" come from? It has to do with his idol, Jean-Paul Gaultier, a blue-striped suit and a brown shawl. I can't do the story justice here. I recommend reading Brenner's own words on the Blue Stripes website.
​I have to admit I wasn't expecting an authentic chocolate cafe from the guy who founded Max Brenner. The cafe is small and has a limited menu, but it's a must-see for any serious chocophile. And to top it off, Oded Brenner is a great guy. A real mensch. He didn't know most of us, but he was happy to share his chocolate and his experiences, both good and bad.
​Stop by Blue Stripes near Union Square on your next visit to New York. Look for the bald guy behind the counter and tell him Lauren sent you.
​
​
​
---
Archived Comments
---
Stopping by this weekend. I have a feeling the place will be considerably more packed with people than the photo above! (Maybe Monday is better!)
---
Lauren – Great write-up. I am headed into Manhattan tomorrow and will be in the vicinity of Union Square so I definitely planning to drop by and say hello. I did meet Oded many years ago – before Max Brenner opened their iconic shop and their kosher chocolates were some of the best available – so it will be fun to reconnect.