Casus Grill and Kumana Avocado Sauces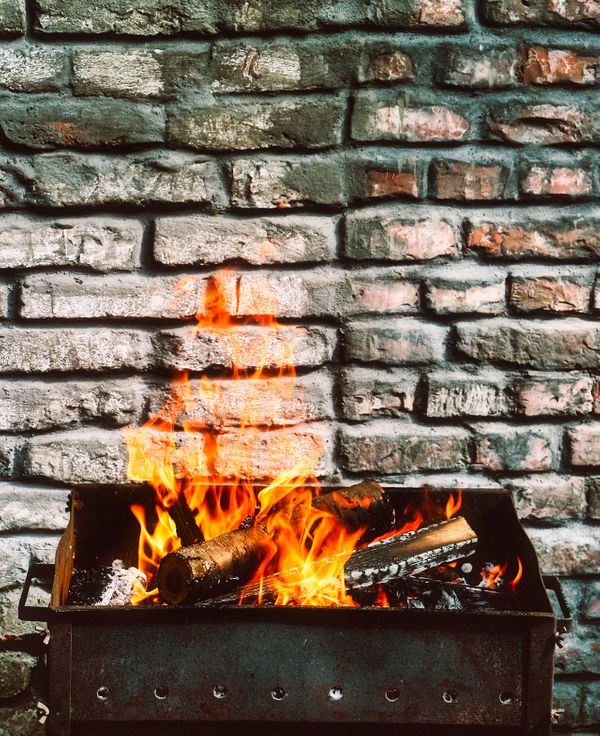 I admit to living in the 'burbs but my apartment building does not have a place to set up a grill for barbecuing. So when I received an email about an eco-friendly/recyclable/biodegradable single-use grill my curiosity was definitely piqued and – having been invited to a potluck garden party where I could bbq – I reached out for a (free) review unit.
I have to admit I like the idea of the Casus Grill on a number of levels. I don't have room in my apartment or in my building to store a grill even if there were a place to set it up and use it. It's also something easily transportable (it's light and compact) so on first look it's a pretty attractive option for a picnic.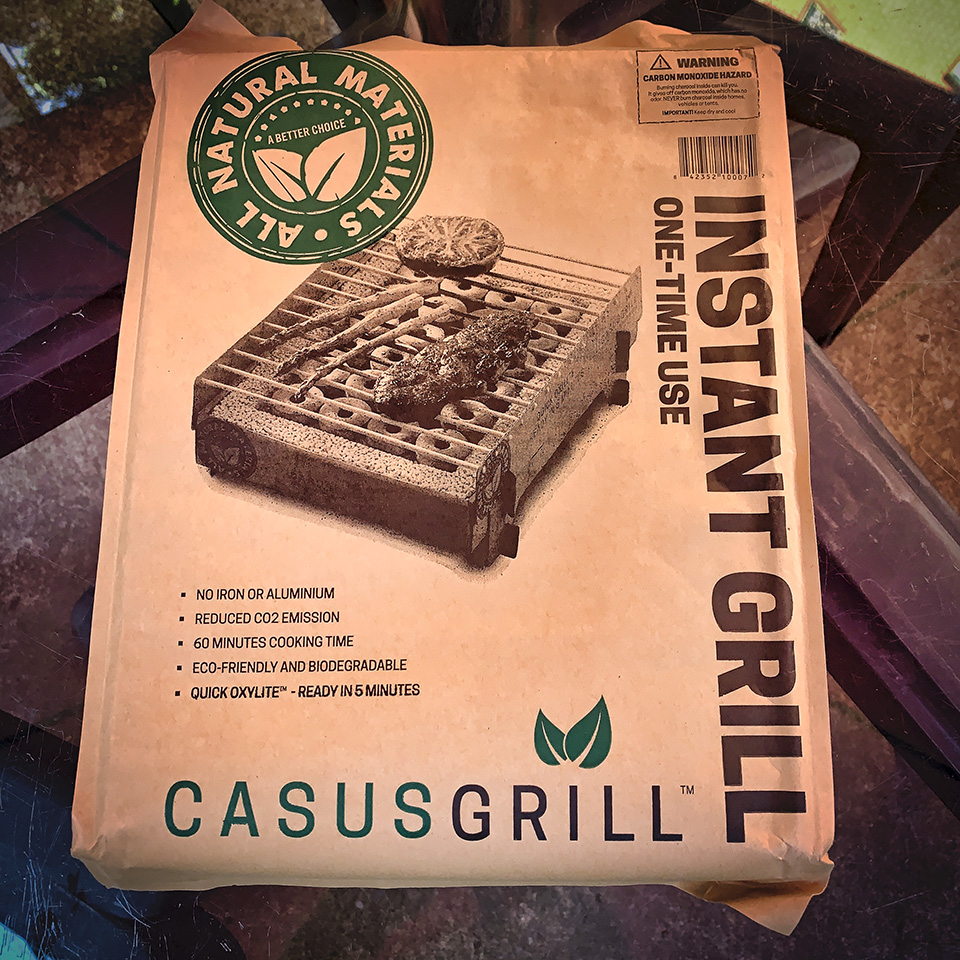 The package details many of the main benefits of the product. What may not be clear is that the body is made from cardboard, the supports from card stock, the grill from wooden skewers, and the whole thing can be dismantled (when it cools after use) and the various parts disposed of in different ways, reducing the waste footprint.
What I did not expect is that inside the outer wrapping the grill is not all that well protected and so it got damaged somewhere along the way. There does not appear to be any warnings about proper handling (there are lots of other warnings).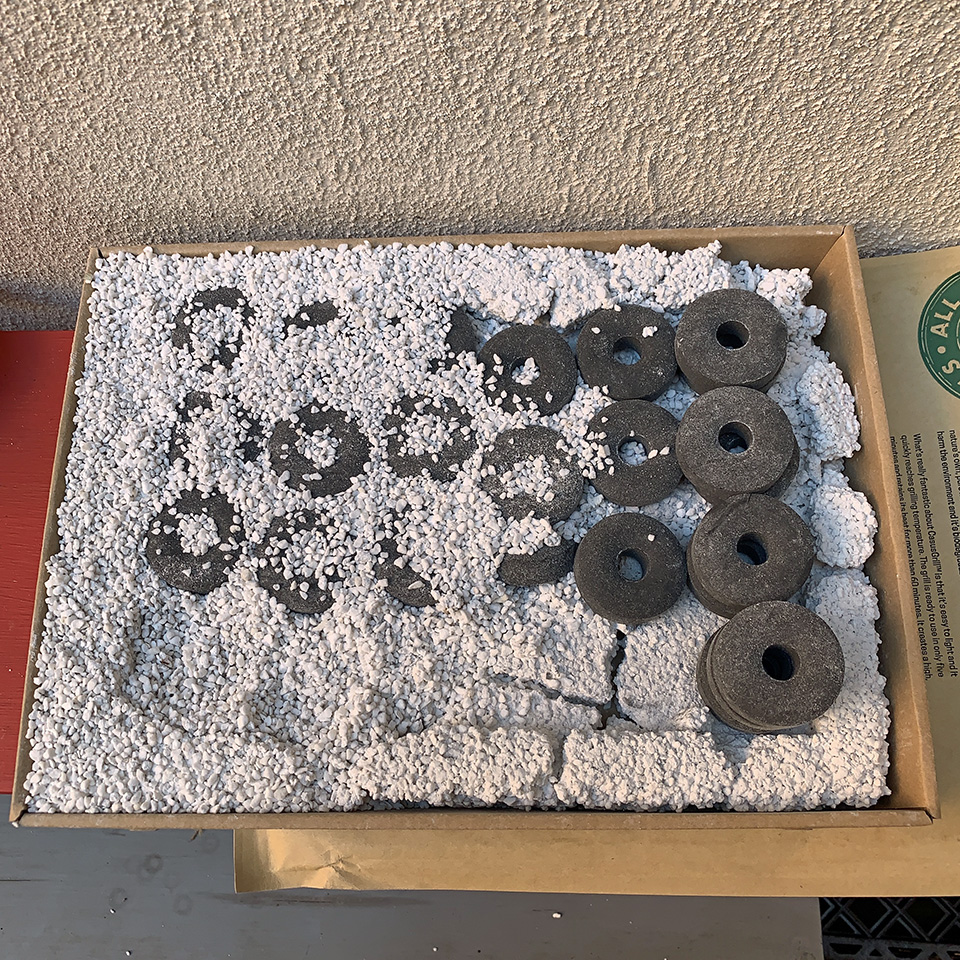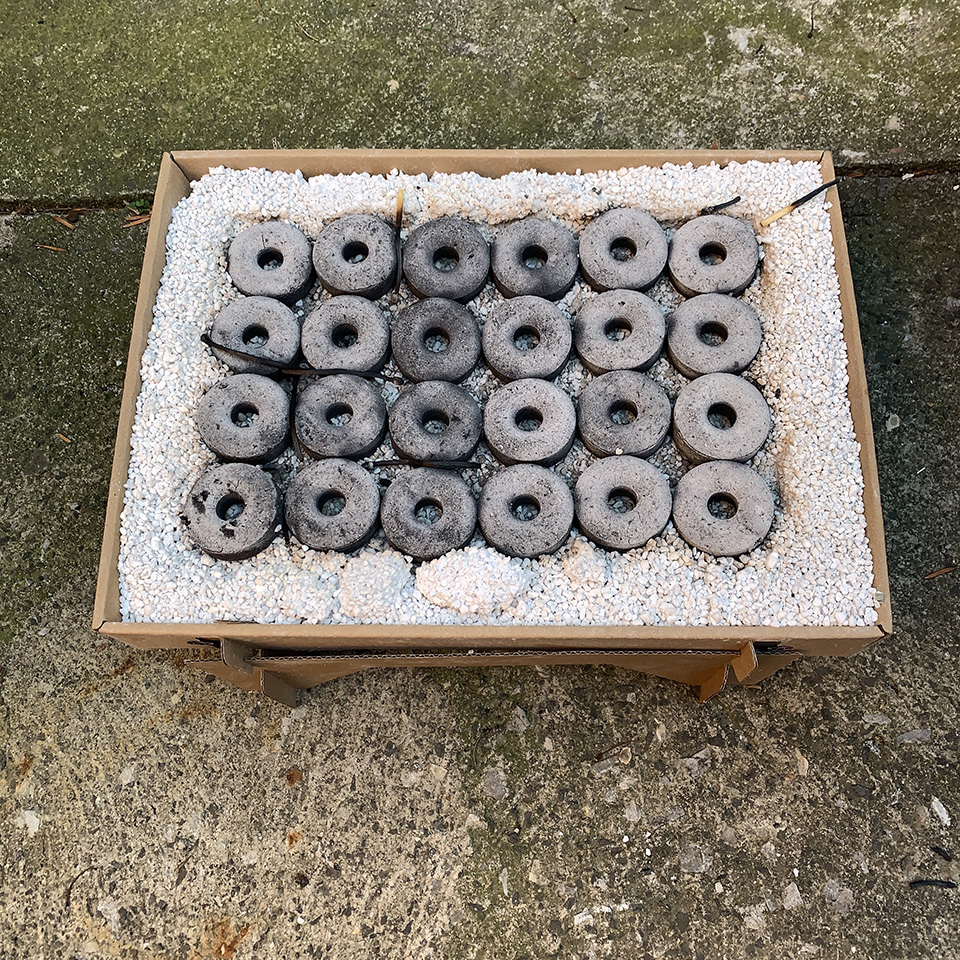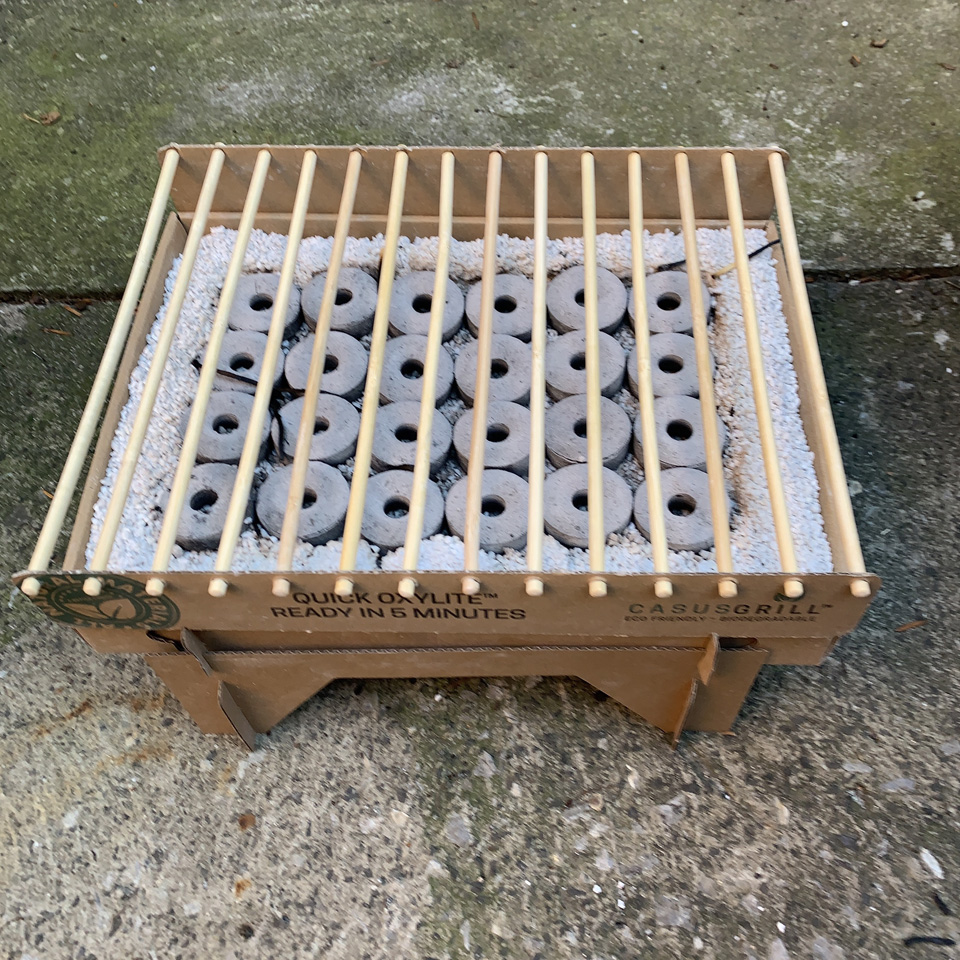 Surrounding the matrix of briquettes is a structure of what looks like perlite – the lightweight material that is a common part of potting soil mixtures. This material provides insulation that keeps the paper surround from catching fire and it will keep the briquettes from igniting properly.
So before I could even start assembling the legs I needed to move the briquettes, clear out the center well, rearrange the briquettes and then make sure the insulation was properly distributed.
What I did not fully realize before I started this process is that the briquettes are covered with a film that replaces lighter fluid. If I had been thinking clearly I would have donned food-handling gloves but I just dove in. In hindsight not the smartest move.
Once that fix was made, assembling the grill from the photos was extremely straightforward and I had no reason to refer to the online video assembly instructions. I lighted the briquettes at the four corners and it was oddly satisfying to watch the fire spread from one to the next until everything was alight, even if there were no visible flames. After about 5-7 minutes all of the briquettes were covered with light-grey ash and I put the grill over the top and started grilling.
What I do have to say is that I was able to get good grill marks over the veggies I brought – peppers, tomatoes, zucchini, and scallions. But this required patience as the briquettes did not put out a lot of heat. I am very glad I brought veggies to cook. I would have been frustrated cooking anything thicker than about 1/4 inch. Flattened chicken breast but not legs or thighs. Thin sausages but not a thicker wurst. And the grill surface is fairly small with a max recommended payload of 500gr.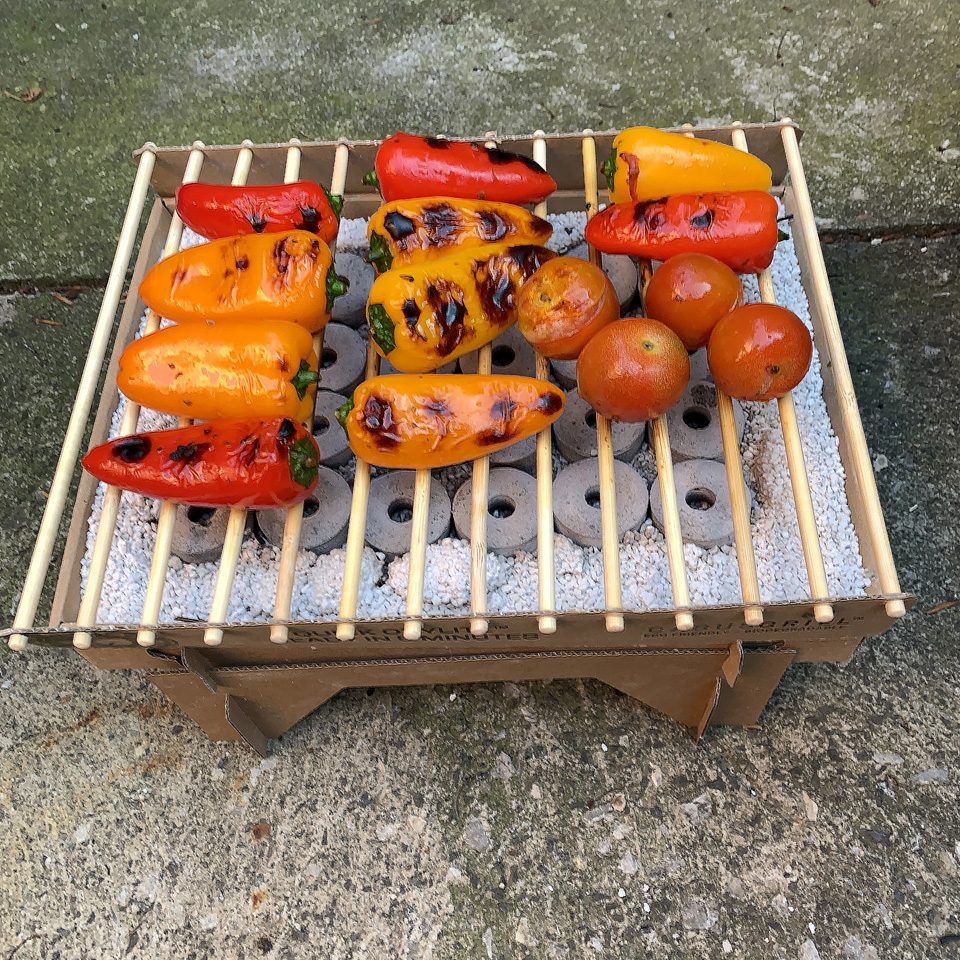 I served the grilled veggies with a selection of sauces, including three avocado-based sauces from Kumana, which were also sent for me to review.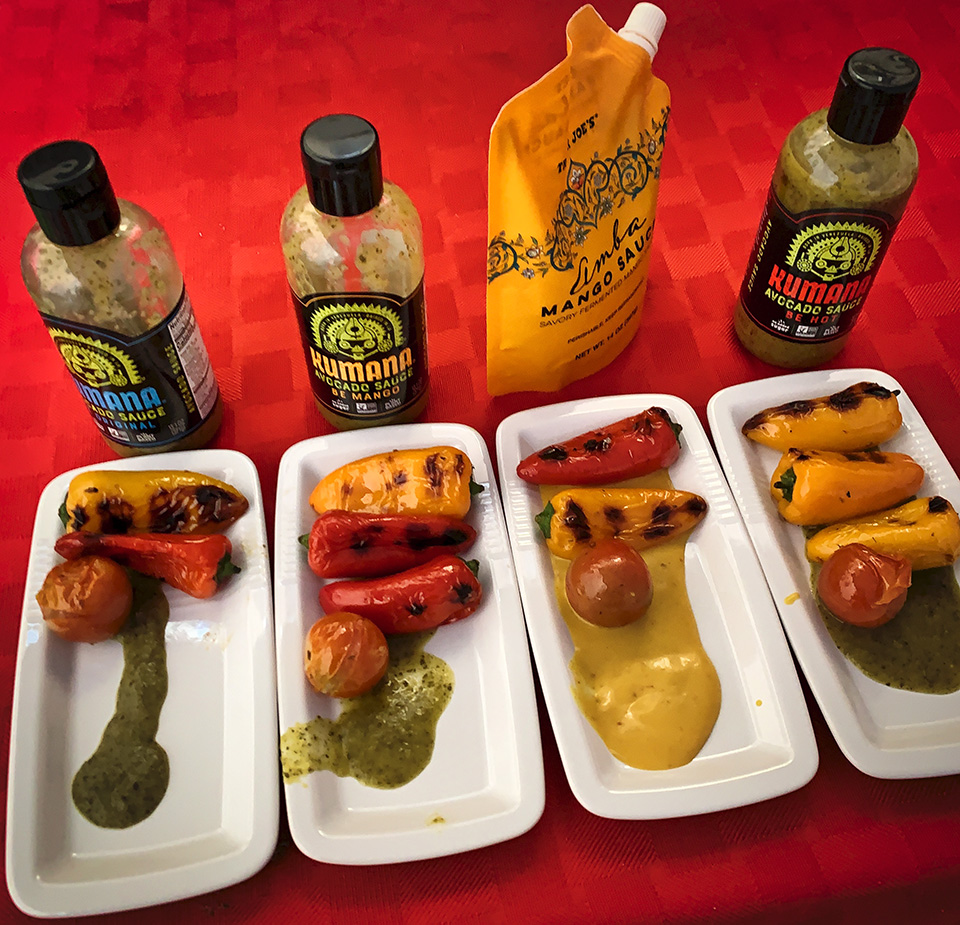 The three Kumana sauces (the green ones, l to r) are original, mango, and habañero. What I like most about the sauces are their vibrant acidity and color. I've been using them around the kitchen in a variety of dishes from eggs to rice and beans and even as the basis for a vinaigrette for chopped cruciferous veg salads. The mango comes through as a more subtle tropical sweetness than as an easily identifiable flavor and the heat of the habañero is not too aggressive and does not overwhelm.
If I had not used all three as dipping sauces I would have used one of them as a marinade for the veggies. Because I was using them for dipping sauces I used other marinades, including the oil from a tray of sun-dried tomatoes. They were a good choice here as they nicely complemented the smokiness of the grilled veggies. I was also going for a colorful presentation for the potluck table – which I think I achieved.
Conclusions
I like the fact there are no visible flames when lighting the Casus Grill, which makes me think it could (?) be safer to use than a conventional charcoal grill and could be used in situations (like on an NYC fire escape) where you might not want or be able to use a more conventional grill. Because I was not careful enough washing my hands after fixing the shipping damage to the grill, I was able to smell the substance (unpleasant) used to ignite the briquettes when I brought my hand close to my face over the course of the rest of the evening when eating or drinking. I did not notice it at first because I assumed it was from the first few minutes of the briquettes catching on fire. I want to believe that once the fire is ready to use there is no residue like that of using too much lighter fluid when igniting charcoal. That said, I would use gloves to avoid any possibility of getting a contact high from handling the briquettes. (There is no warning on the packaging on this topic that I could read.)
I do have to state emphatically that these are light-duty grills. If you're looking to cook a thick steak or cook for more than a couple of people you may be disappointed, at least according to my single-use experience with this one unit which was damaged in shipping. That said, if you don't have a place to store and use a grill and you do want to grill on something other than a stove or on an intimate picnic, the Casus Grill is definitely worth considering. Bonus points for the eco-friendly aspects of the materials and for the ingenious construction and easy assembly.
The only thing I found to quibble about regarding the Kumana Sauces is that while they are quite tasty, very low calorie (5/tsp), gluten-free, do not contain any added sugars (or any sugars at all, actually), are non-GMO, and list both ascorbic and citric acid as ingredients, they also contain potassium sorbate and sodium bisulfite as preservatives. Potassium sorbate is on the FDA GRAS (generally recognized as safe) list and according to a USDA research document I found, "is a naturally occurring unsaturated fatty acid [that] is completely safe with regard to health and [has] the lowest allergenic potential of all food preservatives." Sodium bisulfite is also on the FDA GRAS list, but people who have reactions to sulfites might want to pay close attention. And, given how clean the rest of the label is and taking into account the bottles do need to be refrigerated after opening, seeing the chemicals on the list is jarring.
Otherwise, I found Kumana sauces to be versatile, 100% plant-based products and a very welcome alternative to ketchups, tomato-based salsas, and the lineup of bottled and jarred sauces loaded with sugar, salt, and sporting decidedly less-clean labels that take up a lot of shelf space in stores. I can totally see using any of the Kumana in combination with something like mole poblano enchiladas (I had to get a chocolate reference in somehow!) to add color and piquancy to the plate.

Links
Casus Grill
Kumana Avocado Sauces
Note: edited after publishing to fix typos and grammatic errors as well as for clarity.
---
Archived Comments