Review: FlavaNaturals FlavaBars and FlavaMix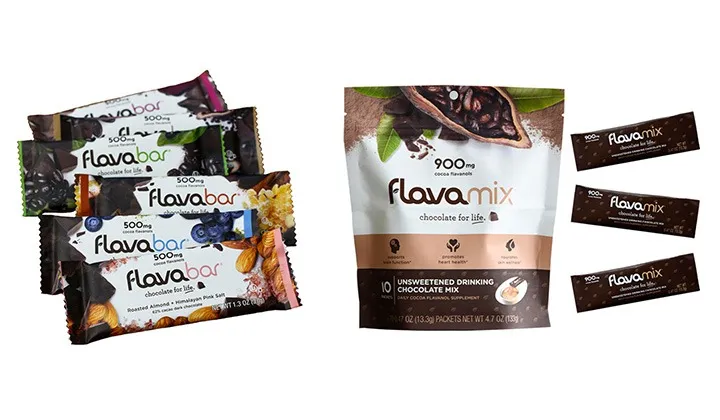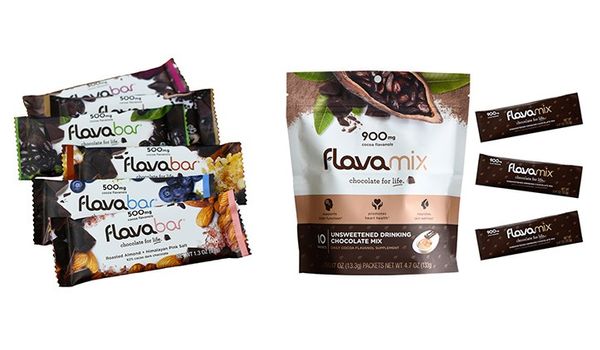 I am on record as not being interested in buying chocolate based on its purported health benefits. I want to eat chocolate that puts a smile on my face and any health benefits are bonus.
That said, I recognize that many people are interested in chocolate for its health benefits and find that many of the available options – for example high cocoa-content, raw, vegan, and/or paleo – have flavor profiles that do not appeal to them.
Consuming cocoa flavanols in pill form can get really expensive. And it's really boring because more than half the fun eating chocolate is in the part where you eat it. Pills take all the joy out of it.
Coincidentally, my friend Matt shared with me a couple of bars from FlavaNaturals and a couple of days later I was contacted by their PR firm about doing a review. Because it was top of mind I agreed, despite my general thoughts about chocolate as a supplement. At the same time I ordered a bottle of Mars' CocoaVia pills from Amazon as a control.
In short order I received a Gift Sampler containing a FlavaBar® Library Set, Classic Dark Chocolate 10 pack, FlavaMix® Drinking Chocolate (powder), and a FlavaNaturals® BlenderBottle®. Every serving of each product contained a minimum of 500mg of cocoa flavanols.
For me, the least interesting product in the Sampler was the Classic Dark chocolate at 60% cocoa content and with no inclusions or flavorings. It was a little too sweet for my taste to want to eat on a regular basis – it would be (and was) a struggle to want to eat on its own. But I can definitely see how that level of sweetness would appeal to someone who is interested in the benefits of cocoa flavanols but who finds chocolate with a higher cocoa content to be too bitter for them to find a pleasurable eating experience. And why should anyone eat chocolate they don't find pleasurable?
On the other hand, I enjoyed many of the flavored bars (all of which are made with the Classic 60% chocolate) with inclusions, and if I were looking to add "healthy" chocolate to my diet a couple of these would become a part of my regular consumption.
The least successful flavor was Espresso Ground Coffee. The coffee certainly reduced the perception of sweetness of the base 60% chocolate but, to me, the espresso-ness of the coffee flavor itself was barely there. That said, for others who find the 60% slightly too sweet this would be a much more appealing expression of the base chocolate.
My favorite flavors were the Crystallized Ginger + Saigon Cinnamon bar and the Roasted Almond + Himalayan Pink Salt bar. These are the two bars I could see myself eating regularly. I liked the clear expression of the flavor combinations and I wasn't thinking of them as supplements – as vitamin delivery vehicles. I enjoyed them for what they are.
The FlavaMix powder is especially interesting because I regularly recommend to people who want to incorporate cocoa flavanols into their diet to consider using natural cocoa powder and cinnamon in smoothies and in hot cereals. The FlavaMix powder, each individually-packed serving of which contains 900mg of flavanols, is a natural high-octane upgrade to a plain cocoa powder. Add a sachet to morning oatmeal, build a smoothie recipe around it, make your own chocolatey spread using a creamy nut butter, and/or create your own iced mocha-latte at your local coffee shop and enjoy. It's fun to concoct different ways to use the FlavaMix and I have barely scratched the surface of the possibilities. As a part of my regular routine testing out the FlavaMix I asked the baristas at my local coffeehouse to build me iced lattes in the supplied blender bottle. I then added the contents of a FlavaMix sachet, a packet of sugar in the raw as the FlavaMix is unsweetened, and shook. So I was also getting some exercise, right? And the blender bottle has entirely replaced my previous reusable water bottle.
FlavaNaturals offers an auto-ship program on their site with reduced prices, and the FlavaMix is especially price-competitive with Mars' product purchased on Amazon at the auto-ship price. For about the same price, FlavaMix offers nearly 2.5x the amount of flavanols (900 versus 375) per serving.
In summary, it's easy to find a tasty way to incorporate cocoa flavanols into your diet with FlavaNaturals products. On the other hand, as I suspected, found taking the CocoaVia pills to be boring. I already find it very hard to be consistent taking any sort of pill other than a prescription medication, and there was no incentive to take the recommended dose of three large-ish pills, with food, daily.
Give me chocolate, or give me chocolate!
My review is based on a sample box of available products which I did not pay for. I did not receive cash or any other incentive that might have influenced this review.
---
Archived Comments
---
From news reports, Mars competitor Barry-Callebaut is collaborating with FlavaNaturals. This probably means FlavaNaturals is using BC's Acticoa.