The Week in Cocoa and Chocolate – Sep 14-20, 2019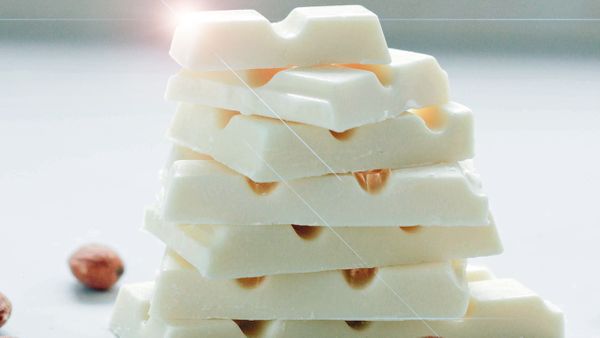 Disclaimers: 1) The day does not represent when the story was originally published, it's when it came to my attention. 2) I may or may not have done any fact-checking or additional research. 3) DMCA/Fair Use/Parody alert: all opinions expressed are my own.
This Week's Hot Byte
September 22nd is National White Chocolate Day!
For those of you who stubbornly cling to the belief that white chocolate isn't really chocolate – yes it is.
Saturday: Food Giant Nestlé Reconsiders Buying Meat and Cocoa From Brazilian Suppliers
The world biggest food company Nestlé is "reconsidering" its purchases of meat and cocoa from Brazilian suppliers. The food giant wants to be sure that the products it imports from Brazil are not contributing to the destruction of the Amazon.
Hot Take
While most people would read this story and consider Nestlé's decision a good thing with no downsides, it's not, actually. Last week, a colleague from Brazil was in NYC – Zelia Frangioni, who publishes Chocólatras Online (instagram – @chocolatrasonline) and I asked her if any of the areas where cacao (cacau in Portuguese) grows are threatened by the current fires. I was told no.

What may happen then is Nestlé may stop buying cocoa and farmers will lose this business for no good reason. It's always the farmer who gets screwed by big agri-business and this is one more example of where seeming to do good actually hurts.
Read the story here.
Sunday: Chocolate is a better partner to lamb than mint, science says
From the article, "Strong bitter flavours like dark chocolate, coffee, and even mackerel are the best seasonings for a leg of lamb, a new study has revealed. Food scientist and flavour expert Dr Rachel Edwards-Stuart, who collaborated with Simply Beef & Lamb, looked at the molecular make-up of meat to find similar flavour compounds in compatible foods." Apparently, "brie, shrimp, and grapefruit also pair perfectly" with lamb.
Hot Take
For a long time I have said that conventional pairing wisdom is just that, conventional. You may not encounter any pairing disasters, but at the same time by not forgetting what boxes are you will also avoid discovering everything new and exciting.


The idea that bitter foods like chocolate might pair with meats should not surprise lovers of a traditional mole poblano which is made with turkey. What many of the suggested accompaniments also share is umami, which is not a bad thing with lamb, I am struggling with grapefruit.

Hmmmm … What about a perfectly rare baby lamb chop on top of an arugula, fresh mozzarella, and olive salad with a grapefruit vinaigrette? I just had breakfast and now I am hungry.
Live the Country Life?
Monday: Jägermeister now does a chilled chocolate coffee shot
From the article, "The new "Cold Brew Coffee" combines the classic Jägermeister recipe of 56 herbs and spices with cold-brewed Arabica coffee and just a hint of chocolate cacao."
Hot Take
Is there any other kind of cacao but chocolate cacao? Seriously? You cannot make this stuff up.

While I am a fan of bitter digestifs such as Chartreuse, I have never been a fan of the J'Meister (which I associate with binge drinking at frat parties) and nothing in this article convinces me that this coffee with and sort of cacao – chocolate or not – would make it palatable for me.
Here comes The Sun (the news(?)paper), not the Beatles song.
Tuesday: The 100 per cent [sic] correct chocolate [sic] bar power rankings
An Aussie father has sparked outrage after posting a picture on social media — showing what he believes to be the definitive ranking of popular chocolate [sic] bars. (Hint: These are all candy bars, really.)
Hot Take
What I love about this article is the labels associated with the levels, not the bars within each level.

At the top is the God Tier. Next up is the Royalty Tier. This is followed by the Adam Sandler or Take It or Leave It Tier.

Touche!
Feel like you need to know more? (You don't, really.)
Wednesday: Chocolate and cabbage cake: you won't believe how good it tastes
Really? I won't believe how good it tastes. Try me!
Hot Take
I am all for wacky ways to use chocolate in non-traditional ways but this is one that never occurred to me, no matter how feverish the dream.I do have to say that I will love any recipe that includes the following direction in the method: "Unite into the eggs batter and pour on the cabbage."I am not sure that even though I love the recipe I am game enough to try this in my own kitchen, but if any reader does, please post your experience (and photos) in the comments below.
Found at The Cookist.
Thursday: How did a 19th century German businessman create Russia's most popular chocolate?
Actually, TL;DR the whole way through. From the article, "Paradoxically, the chocolate that became one of Russia's most recognized brands was originally produced in a factory established by a German immigrant who came to Russia at 25 years old, full of hopes and dreams. In 1849, this adventurous man already was the chocolate supplier to the Imperial family…"
Hot Take
I don't know a lot about the history of chocolate in Russia. Prior to the modern craft chocolate movement and the startups in Russia that are producing credible work I was never a fan of any of the chocolates or confections I tasted coming from Russia. When I have time I will read this more closely and to the end and try to figure out where this story fits into my understanding – and what is just propaganda.
Found at Russia Beyond.
Friday: Top Cocoa Grower to Trace All Beans in Pledge to Protect Forests
From the article, "The world's biggest cocoa grower plans to trace beans from farms to ports as it seeks to protect forests and root out illegal plantations. Ivory Coast will soon conduct a feasibility study for the plan, with the view to establish a traceability system for cocoa from December next year, industry regulator Le Conseil du Cafe-Cacao said in a document handed to reporters Wednesday."
Hot Take
Ivory Coast has lost more than 80% of its forests, says the article, since 1960, and so anything that can be done to reduce deforestation – which is not being caused by cacao only, it should be pointed out – is welcome.

Perhaps at the same the traceability efforts will also address other social ills, including the presence of forced labor, no matter the age of the person being coerced.
Found at Bloomberg News.

More Stories to Ponder
The 10 Best Cities for Beer Lovers in the U.S. Quotable: "This list was calculated by taking every city in the U.S. with a population of more than 50,000, and which contains at least five breweries according to the Brewers Association and ranking the number of breweries per 100,000 residents." Now all they have to do is one of these for chocolate (I asked). I am not optimistic of any overlap between beer and chocolate.
The 2019 Great Taste Award Winners. Search on chocolate for the results you really care about. (Past years, too.) There are, apparently, "about" 436 winners with chocolate somewhere in the name/description for 2019. Eek! This is gonna take some time.
This Week's Book Recommendation: On the Chocolate Trail: A Delicious Adventure Connecting Jews, Religions, History, Travel, Rituals and Recipes to the Magic of Cacao (2nd Edition). Amazon affiliate link – your buying this book helps support TheChocolateLife.

Cadbury is giving customers the chance to design its next chocolate bar. The firm is launching its annual Inventor Competition, which gives entrants the chance to create something good enough to stock on supermarket shelves.

And that's it for this weekly wrapup edition, folks – some of the Chocolate News that's fit to make you salivate. Maybe? Please comment below and let me know about interesting news you think I may have missed.
---
Archived Comments