The Week in Cocoa and Chocolate – Sep 21-27, 2019
Disclaimers: 1) The day does not represent when the story was originally published, it's when it came to my attention. 2) I may or may not have done any fact-checking or additional research. 3) DMCA/Fair Use/Parody alert: all opinions expressed are my own.
This Week's Hot Bite
Barry- Callebaut introduced another, wholly new, category of chocolate on Friday the 27th in San Francisco – Wholefruit. I was there as a guest of the company. While making chocolate using cacao sugar is not new, that is just one element of a much larger program to identify and create new products from cacao fruit. These include cacao juice (also not new), syrups and concentrates from the juice (maybe new), cacao sugar (not new), and flours from the pods themselves. In a word: transformative.
Visit the Wholefruit website. My article on the debut has more of my opinions on the ambitious objectives Barry-Callebaut has for this new category.
Saturday: Why Chocolate Cannabis Edibles Could Cause Headaches for Regulators
Correctly labeling cannabis products for the amount of tetrahydrocannabinol (THC) and cannabidiol (CBD) is important for users, especially patients, to ensure that they are consuming the correct dosages. The challenge, however, is that chocolate cannabis products are making that a lot more difficult. A recent study by Dr. David Dawson found that when chocolate is mixed with cannabis, it skews the THC levels. A notable finding from the study: "When we had less cannabis-infused chocolate in the sample vial, say 1 gram, we got higher THC potencies and more precise values than when we had 2 grams of the same infused chocolate in the vial."
Hot Take
From the article: "The research was, unfortunately, unable to uncover the key ingredient in chocolate that was distorting THC levels …"

This research may throw a monkey wrench in legalization of edibles if the effect is not consistenty measurable.
Found at Motley Fool.
Sunday: People Judge Chocolate By Its Cover
Researchers have found that people judge and make choices about chocolate based on wrapper and packaging design. Furthermore, people tend to associate a stronger emotional connection with the package than with the chocolate inside.
Hot Take
"Taste is the predominant factor in determining subsequent purchases, perception of taste is influenced by emotions evoked by the packaging."

The research involved a small sample size, but involved presenting the same chocolate in different wrappers. Participants reported different taste perceptions based on the wrapper design, proving once again that good packaging and marketing can overcome mediocre or ordinary-tasting product.

We all knew that, LOL – people bought Mast (Brothers) chocolate for the packaging, not because it was particularly good chocolate.
Found at ANI News.
Monday: You've Heard of Biodynamic Wine. Now, Try Biodynamic Chocolate.
Oboló Chocolate, the first bean-to-bar chocolate maker in Chile, is also using biodynamically-grown and certified inclusions in some of its bars.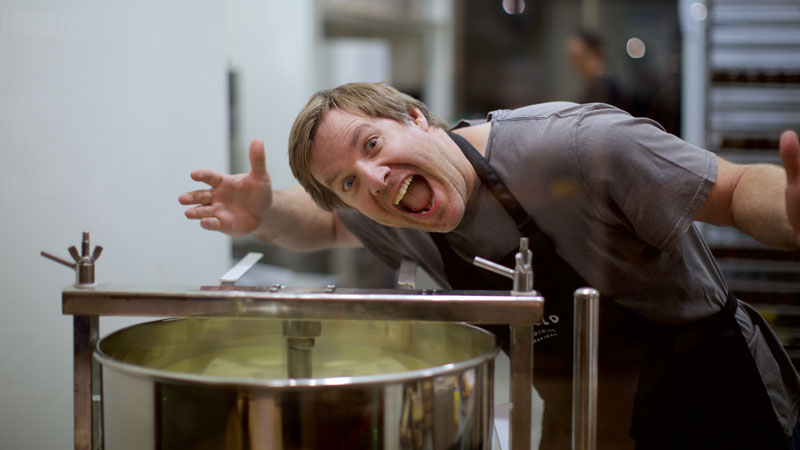 I have the bars shown in the photo and I can tell you from personal experience that they are very tasty. Available now in NYC at The Meadow on Hudson between 10th and Charles.

If you are interested in biodynamic chocolate, Pacari (Ecuador) also makes at least one bar.
Found at VinePair. Obolo Chocolate.
Tuesday: Island chocolate company blames uncertainty around Brexit for closure
A [Skye-based] chocolate company has been described as "an innocent victim of the Brexit shambles" as owners blamed the ongoing uncertainty around leaving the EU for its closure. The Portree-based Isle of Skye Chocolate firm announced its decision on social media, saying "irreparable damage" had been done to its business due to an increase of 30% in the price of the raw materials needed for the business. The company was founded in 2009.
Hot Take
Brexit is a complete and total mess and this closing is likely just the tip of the iceberg if the UK crashes out of the EU. While larger confectionery companies importing chocolate from the EU will be affected, smaller companies have fewer resources to hedge against uncertainty, delay, and price increases. This includes small chocolate makers importing beans from EU-based brokers.
Found in the Aberdeen Press and Journal.
Wednesday: Ivory Coast cocoa crop will be more abundant, longer than last year – farmers
Ivory Coast's cocoa harvest could be longer and more abundant than last year's after weeks of rains and sunshine, farmers said on Monday. Harvesting for the October-to-March main crop in the world's top cocoa producer started earlier than usual, but farmers are weary [sic – wary?] of selling their beans before the official start of the season when earnings could be higher.
Hot Take
The rain is a mixed blessing(?)

"Rains also damaged rural roads last week, preventing farmers from shipping their beans to warehouses." "The roads are unusable. It is very hard to get the production out in some places," said Albert N'Zue, who farms near Daloa.

And fears from previous weeks that heavy rains could lead to crop diseases and a drop in quality have not entirely subsided.
Found at Reuters.
Thursday: Dairy farmers and legislators [are] having a cow over potential chocolate milk ban
Dairy farmers and local legislators are asking for answers after a recent proposal to ban chocolate milk in New York City schools. Legislators on both sides of the aisle are calling the ban ridiculous, slamming New York City Mayor Bill DeBlasio.
Hot Take
I love any article about dairy that includes "have a cow" in the headline.

And I cannot and will not support any candidate for president who has such a radical agenda. Not a campaign plank I can get behind.
Found at WBNG News. Holy Cow! Also at WNBC.
Friday: An Avocado & Chips Chocolate Bar Exists!
From the article, "In California, it's a known thing that everyone is obsessed with avocados. I think I've seen it all when it comes to avocado-flavored food items like, toast, shakes, beer, and much much more. But have you heard of the latest sweet creation? It's an avocado chocolate bar with pieces of actual tortilla chips inside! This is a creation we never saw coming! The combo definitely threw us off and sounds…questionable. But if you have an open mind to trying this chocolate bar, we've heard some say it's quite delicious and has a familiar texture and flavor profile. Once you taste the crunch from the tortilla chip bits, it will remind you of something like a Nestle Crunch bar, but with salty, smooth, and creamy tastes!
Hot Take
Because of course it does. Only in California?

From Compartes Chocolate – known for unusual flavor combinations. And it's based on a white chocolate which makes a whole lot of sense.

Currently sold out. Because of course it would be.
More Stories to Ponder

And that's it for this weekly wrapup edition, folks – some of the Chocolate News that's fit to make you salivate. Maybe? Please comment below and let me know about interesting news you think I may have missed.
---
Archived Comments