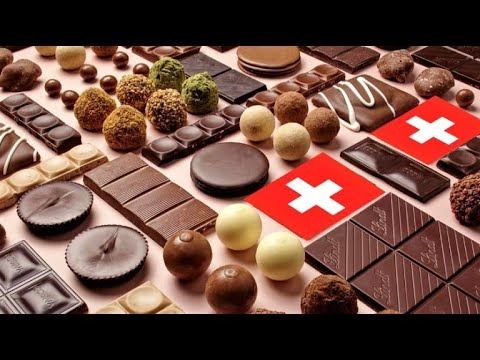 Two Chocoholics Tour Swiss Chocolate HEAVEN!
THE Swiss Chocolate adventure and tour as we explore around the historic and beautiful city of Zurich on an amazing Swiss Chocolate adventure We visited some of the most famous Swiss chocolate brands in the capital such as Teuscher and Sprungli as well as eating many other Switzerland Chocolate treats!
Teuscher's main store is on Zurich's famed Bahnhofstrasse. The flagship store is a few blocks away in Zurich's old city centre in a shop built in 1647. Founded in 1932 by Dolf Teuscher and In addition to its stores in Zurich, the company has outlets in Geneva, New York City, Boston, Philadelphia, Chicago, Portland, San Francisco, Beverly Hills, Seoul, Abu Dhabi. Its signature confections are Champagne Truffles, the first of its kind. They are made with champagne, butter cream, and surrounded by dark cream ganache.
Sprungli was founded in 1836 when Rudolf Sprüngli bought a confectioner's shop in Zürich. He started producing swiss chocolate in 1845 and opened the shop on Paradeplatz in 1859. The Luxemburgerli, a macaron invented by a Sprüngli confectioner from Luxembourg are now the company's flagship product of which about 650 kilograms (1,430 lb) are produced daily.
#swisschocolate #Zurich #Switzerland
---
Archived Comments