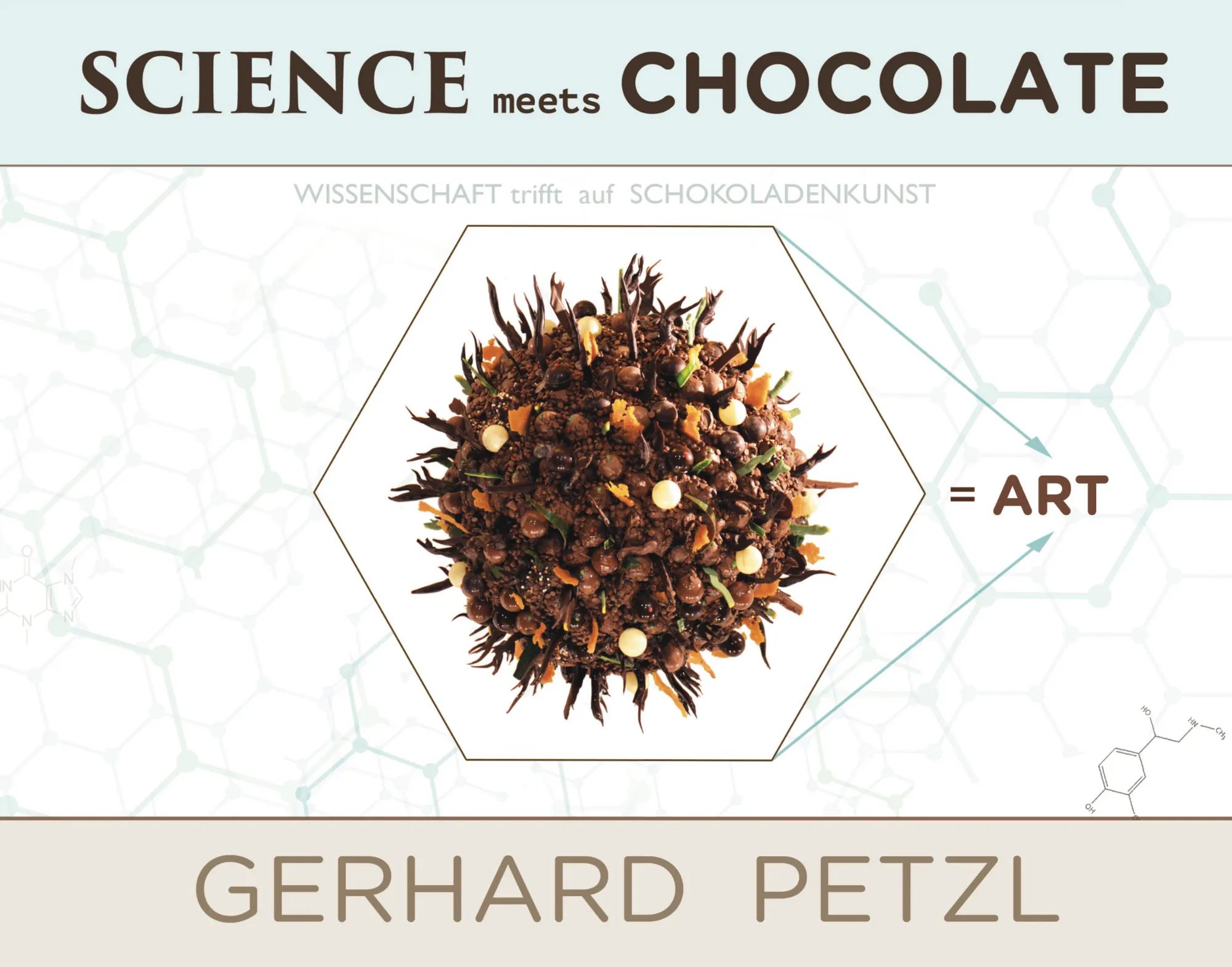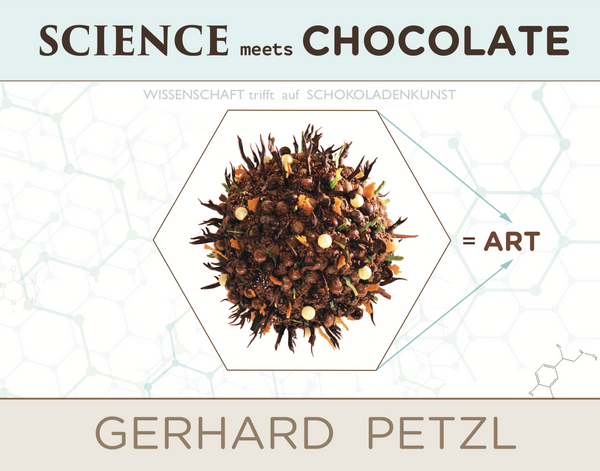 World's first 'SCIENCE meets CHOCOLATE ART' book by Gerhard Petzl available now!
I have started as a Pastry Chef, then switched to the field of being a Chocolatier, studied Art&Design (sculpturing) and finally I have landed even in a Corporate environment like Nestlé in R&D, as a member of the Front-End Innovation team and for product developments on a global scale.
That also means the many stations and developments I have gone through, also brought me into the contact of many creative people, specialists, scientists and Institutes. And with the knowledge of a scientific environment like at Nestlé, where you think on a global scale in huge volumes (completely different than in a kitchen environment you usually work as a Chocolatier), I have also realised that there is a missing link of communication between different fields of knowledge. Scientists discussing matters in their Labs, Universities or Institutes, Pastry Chefs discuss matters in their own Facebook groups and big companies like 'Callebaut' try to keep people within their own network and social media channels, like the 'World Chocolate Masters' group and discuss matters and train people in their own environment to keep them close. 
Well, as I have worked, lived and travelled to more than 40 countries, I've also had the pleasure to be in many of different social and professional groups and to discuss a lot of different fields, interests and personal discoveries in the field of Chocolate, Pastries and Art. The journey of my personal discovery regarding the beauty of 'Chocolate crystals', which even resulted to the publication of my second book, was an eye-opener for me: For the first time ever, I felt a real connection to the 'medium' chocolate. The core, the energy of it. Not just working with it.
When you are cooling down chocolate, you are bringing out the heat of it in the cooling process, experts say: You remove the remaining energy. Well, I was watching this process for many years now with approximately 200 different types of chocolates from all around the world. But it also showed and taught me a lot about the similarities of nature and chocolate in general and its behaviour. This is it, what I wanted to bring closer. To see, that a block of untempered chocolate after 6 months could look like a garnet rock. Two totally different fields and materials but visually they have at the end the same structure.
I also wanted to showcase true craftsmanship, like the 'sound-house' sculpture which was incredibly hard to make, or the delicate art of piping chocolate like at the sculpture 'butterfly egg', or the modelling work of the 'Nano-sculptures'. All these little artworks got my same personal and diligent energy and attention, like I have used to compete in the World Chocolate Masters competition. It is just for a different purpose. 
This book should be an inspirational source to think 'outside the box' and rediscover chocolate in new ways and connections. I have received an overwhelmingly positive response from people in many different fields of expertise, which shows that it makes absolutely sense to create such novelty, even though I understand that not everyone will understand, why I am doing this!? And for all the Chocolatiers out there, I would like them to think about the multiples techniques used to create all these sculptures and chocolate related artworks. For me, a chocolate bar itself is an artwork within the complexity of its production process and flavour possibilities, but it is definitely not just the sum of its ingredients. It is art and science.
More pictures of the book are available on my website:
---
Archived Comments
---
Okay! Looking forward to it.
---
reply toI need to get the shipping address for the Chocoa office. I will order when I do!
---
Great book! thanks for sharing
---
Yes, the book is ready to ship and you can just click on the little photo of the book above, which leads you directly into my webshop where you can order the book and I ship it to wherever you would like to have it here in Europe. Looking forward to it. Thanks in advance.
---
reply toGerhard – I am not planning as of this moment to be at the forum in London in October. Is the book ready to go? I am happy to get you payment somehow and then you can ship it to the Chocoa office or maybe someplace else I will be. Right now I am planning to be in Europe until the 9th of March.
---
Sorry, can't make it this year. Will be there next year with a stand.. but agree shipping within Europe is way cheaper for the book than to the US but not impossible though! Will you be in October at the London Chocolate forum? I will be there as a speaker and will have the books with me.
---
@GerhardPetzl.com – Will you be at Chocoa? I would love to look at a copy there or maybe purchase a copy while I am in Europe.