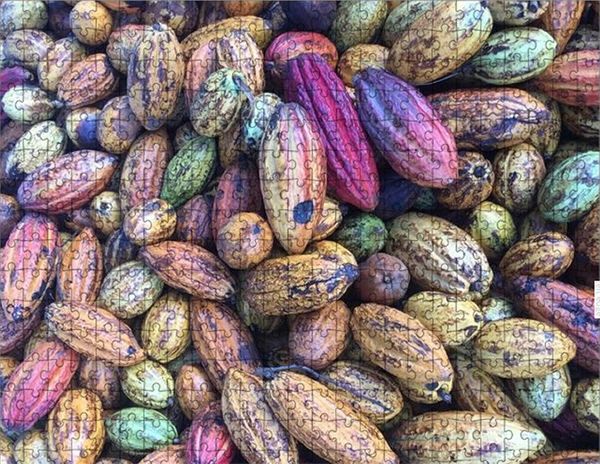 World's Hardest Cocoa Pod Jigsaw Puzzle? On Sale Now!
500 pieces and measuring 19×19 inches. Perfect for any (and every) chocolate lover in your life. Including you.
You can purchase the puzzle here.
This just might be the world's hardest cocoa pod jigsaw puzzle. The pile of pods on the front was taken in Tabasco, Mexico in 2016 and the pile of pods on the back was taken in Bahia, Brazil in 2017. The puzzle comes without a box and reference photo but you can download and print the photo below to act as a guide.
More designs are coming – all featuring photos taken from my travels to origin beginning in 2003. Some puzzles will be single-sided, others will be double-sided, some will be suitable for younger puzzlers. All will be giftable.
Let me know in the comments below if there are any subject ideas you'd like to see! Landscapes, trees/pods, equipment, flowers … what would you like to see in a puzzle?
You can purchase the puzzle here.
Special discounts are available on bulk orders for retail/corporate customers. DM me for info.
---
Archived Comments