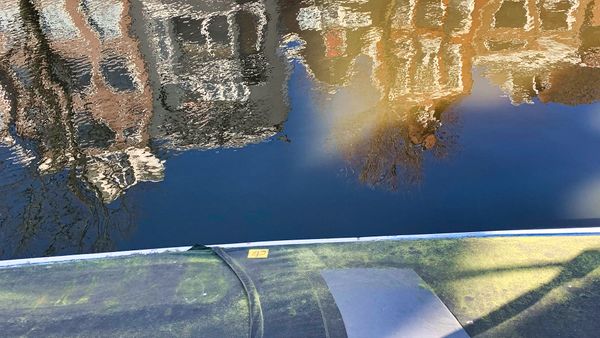 Chocoa 2021 Reflections
Because of travel restrictions, Chocoa 2021 went virtual this year.
For most of the past decade, February has been synonymous with Amsterdam in my life. That is because of the gathering called Chocoa, whose mission is simply stated – Good Cocoa, Better Chocolate. For several years Amsterdam has also meant the Origin Chocolate Event in October, making Amsterdam one of my most-visited destinations. And one of my favorites.
For the first several years of its existence, Chocoa was held in the Maritime Museum. This was a truly lovely location with several logistical problems, including the fact that it was a hike from the main train station, there were not enough meeting rooms, and the rooms where the exhibitors set up would sometimes get uncomfortably warm – for the chocolate, and people.
The move to the Beurs van Berlage – another truly lovely location – on the Damrak between Amsterdam Centraal and the Dam Square, meant a location with a different set of challenges – but access and space were not among them. The move to the Beurs made it possible to expand the program to include a substantial dedicated trade component as well as a consumer fair. Educational opportunities also expanded to include the Chocolate Makers' Forum as well as more tasting programs for the general public. In its first year the Chocolate Makers' Forum was only a single day but the response to it was so great that it expanded to two days the next year.
This willingness on the part of the organizers to listen to input from trusted advisors and to experiment with the format of the multi-day event is one aspect of Chocoa that has led to its quick rise to prominence in the global chocolate community. The organizers assume responsibilities for mistakes and are always looking to improve on the format and innovate – the live bean auctions is just one instance of this – and there are literally dozens of examples I could point to. I may have been to the Salon du Chocolat in Paris, London, and New York combined more often than Chocoa, but the Salons all look and feels like the same event in each place, with no tinkering of the basic format other than that necessary to fit into different event spaces.
Another factor that differentiates Chocoa from other festivals whose focus extends to specialty/craft chocolate is its willingness to embrace "Big Chocolate" at all levels of programming. While Big Chocolate has benefited from the work of specialty makers over the past twenty years, there is much that specialty chocolate makers can learn from larger companies – they (we) are not actually enemies in my estimation.
2020-21 Timeline
I left New York City for Amsterdam and Chocoa 2020 on February 17th last year. After Chocoa, a week later, I went to Finland for a week's holiday just as news of the coronavirus really started to penetrate the international consciousness. From Finland I went to France to visit Bonnat in Voiron just as alarms really started to sound. I had a consulting gig in Brussels planned, and my client put in place a global travel ban that meant I did my work from a hotel room in Brussels rather than in the client's facility. While at this point it was impossible to get hand sanitizer in any form anywhere in Brussels, the streets and restaurants and shops and bars were crowded late into the night.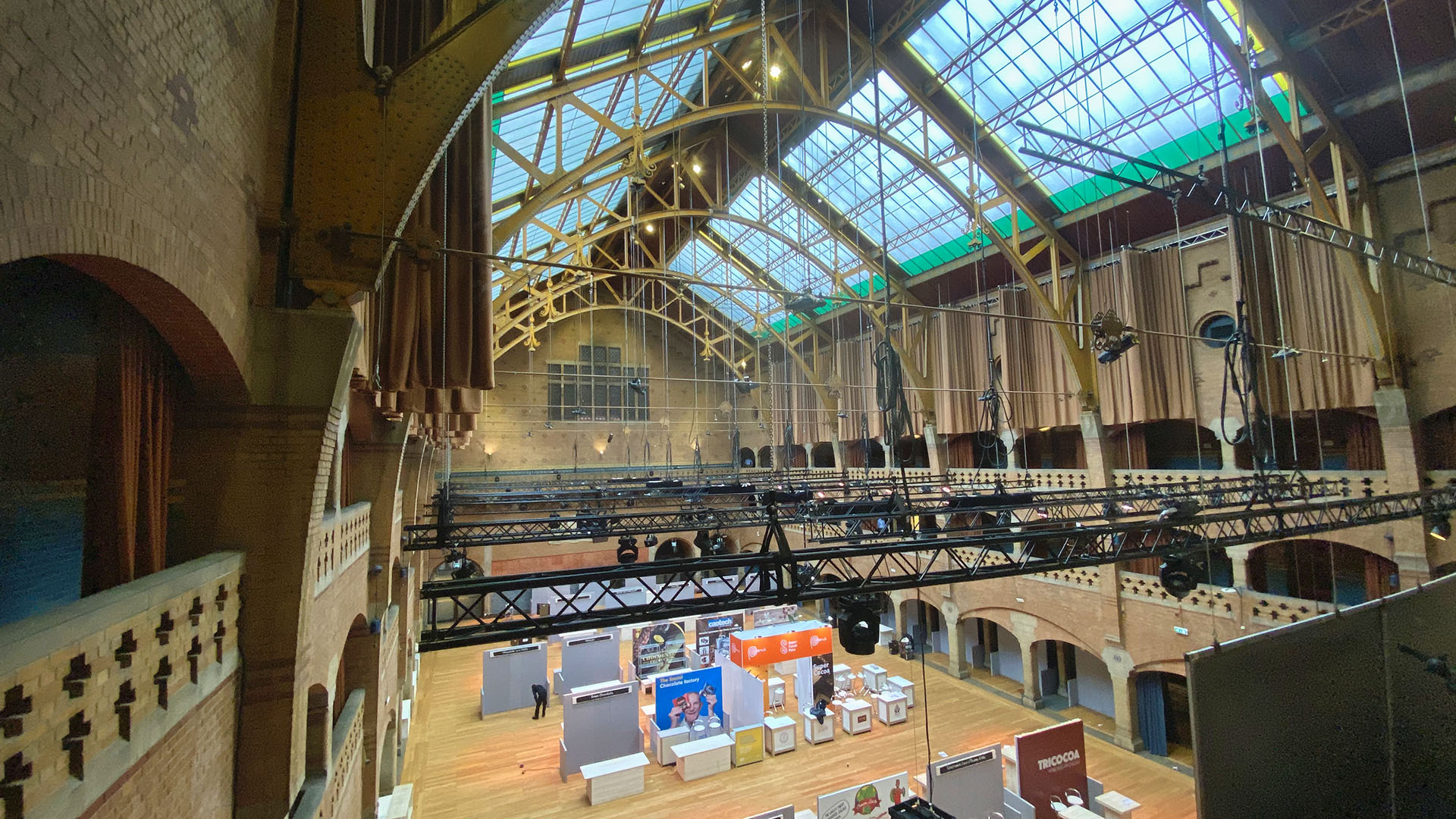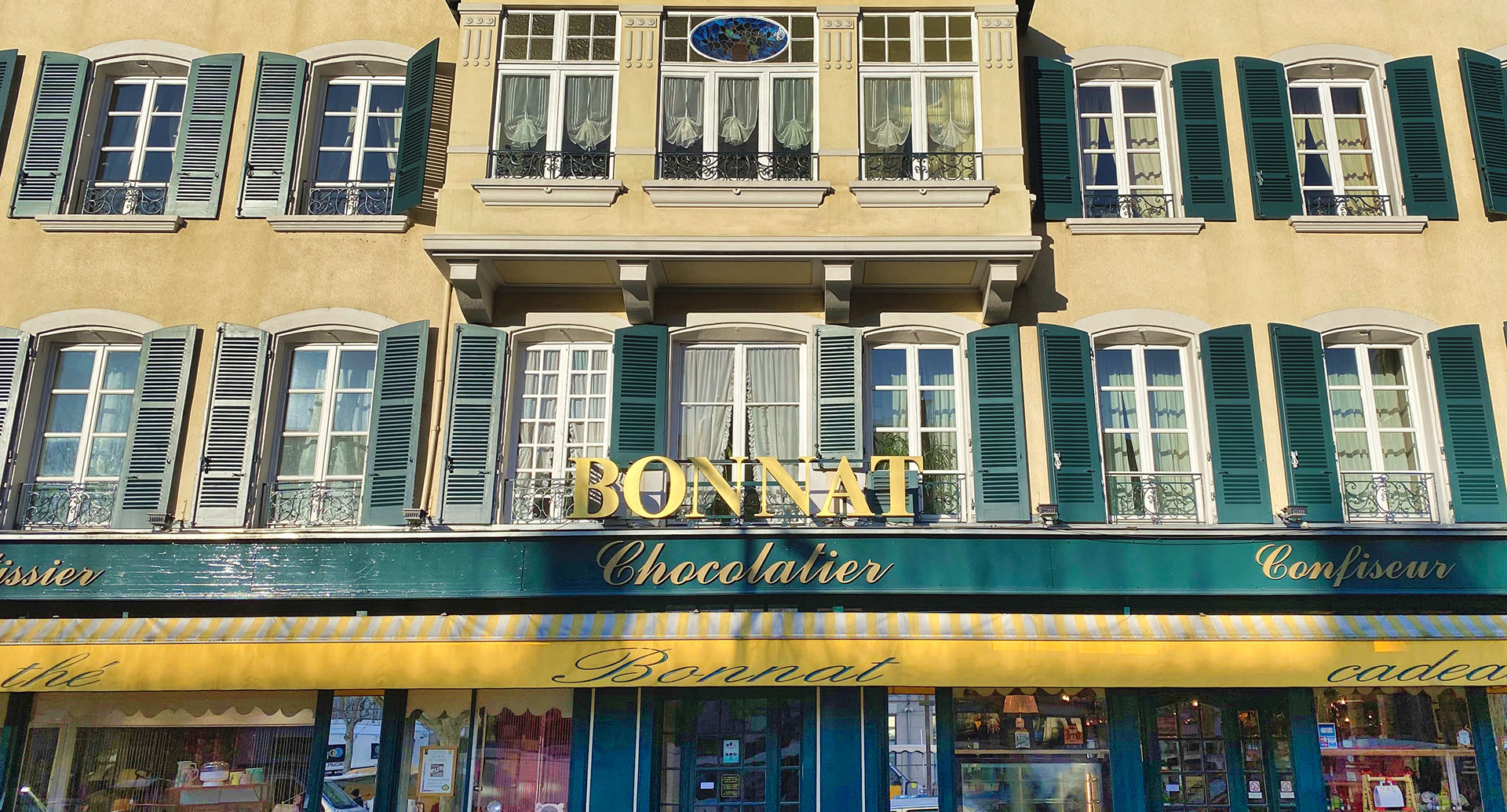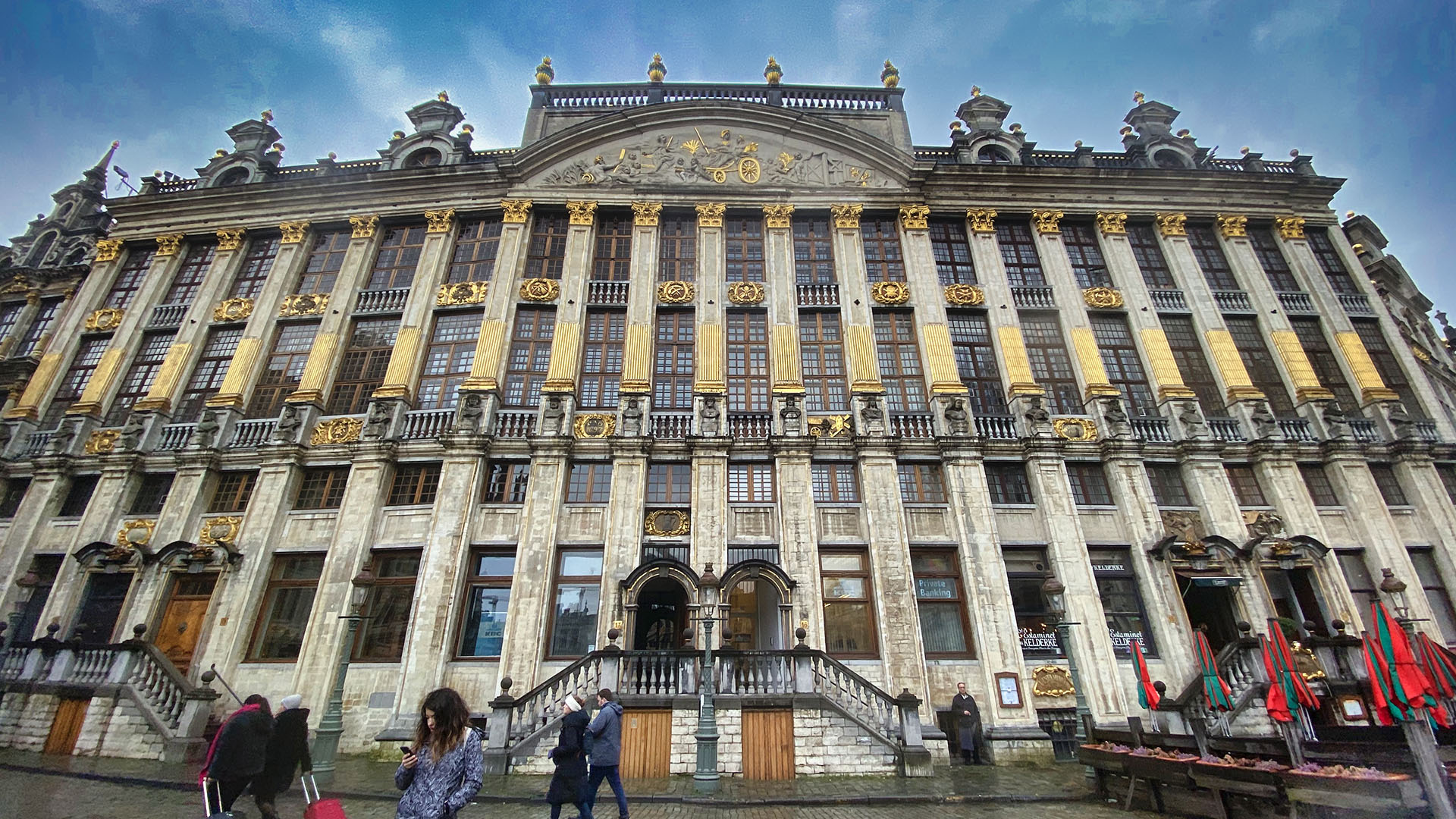 I left Brussels for Schipol airport (with a short stop in Rotterdam to visit Heinde & Verre), and literally as I was walking down the jetway to my flight back to NYC, the president announced the first European travel ban, which did not apply to Americans.
I was in NY for about 36 hours before getting on a flight to São Paulo for a festival there, also to follow up on business negotiations begun at Chocoa. By this time fear of the virus was spreading faster and more virulently than the virus itself, and while there was no masking at the festival, pump bottles of sanitizer were everywhere, some smaller exhibitors decided not to show up, overall visitor traffic was down, the last day of the festival was canceled, and the airport was a madhouse as I waited for my return flight. I landed at JFK the morning of March 16th and immediately started quarantining. Nearly a year later, like most people, I am still hunkering down. This is the longest stretch of time (347 days and counting!) in over 35 years I have not been on an airplane.
And all of the festivals normally on the calendar were either canceled or went virtual. I have to admit to suffering from bouts of severe Zoom fatigue and to being underwhelmed by the quality of the virtual festivals I attended, mostly because the software platforms were not up to the task.
So I was both excited and apprehensive when Chocoa announced they were going virtual for 2021.
First Impressions
My first job out of college was in computer graphics software development and I built a twenty-year career in high tech. My first UI/UX development project for an Internet client was in 1994. I have even been in charge of the event management platform for a chocolate festival. From personal experience I know how hard it is to even get close to doing it right.
And while the platform the organizers of Chocoa chose – EventInsight, from a Dutch company – is not perfect, it is far and away the best virtual conference experience I have been a participant in, both from a presenter perspective (I was the co-moderator of the Craft Chocolate Sustainability Impact panel in the Chocolate Makers' Forum) and from a visitor perspective, with both desktop and app interfaces that respect the limitations of each format (e.g., screen size) and don't overreach.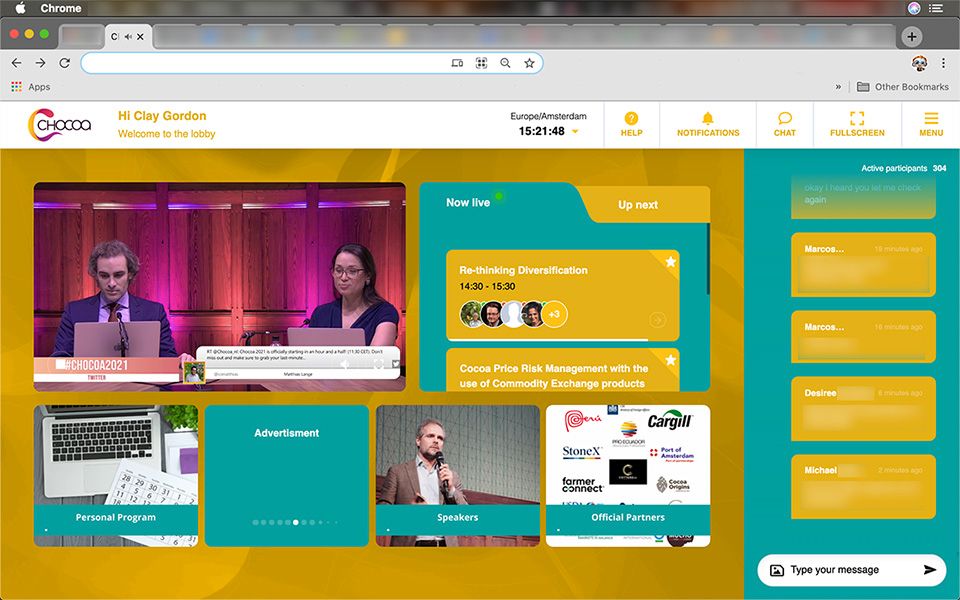 The Lobby View is what participants see when they enter Virtual Chocoa. As would be expected, access to all of the main controls and parts of the program are here – with one crucial addition, a live video and audio feed.
This live feed provides a feel of "live" engagement with the event sorely missing in other offerings and the moderators are not only talking about what's going on in the program and what's coming up, they are also interacting in real-time with posts in the chat stream. Furthermore, you can switch out of this browser window to another – say to check email – and continue to monitor the audio. My only real criticism of the live feed is that there is no way to make it larger to make reading the Twitter stream easier. And kudos to the organizers for filling the live feed with interesting content during the entire the program.
The platform continues to use video effectively throughout, and offers multiple ways to interact and connect during the event and after. One of the more interesting ways to connect was in the Matchmaking Carousel sessions where participants were randomly matched with other participants based on stated interests. While some of the matches were hilarious. For example, I found myself matched with someone with no English speaking skills and my Spanish was not up to the task of meaningful conversation. Nonetheless, I did have several interactions that were quite fruitful and are worth following up. And that's the idea. When at a trade fair I often fail to recognize potentially valuable contact opportunities. In this format you meet someone and have to work quickly to establish a connection and find a point of mutual benefit. My only criticisms of this part of the program are that individual sessions were too short at 5 minutes (6 would have been more comfortable), and sessions were limited to 30 minutes overall, so practically speaking to no more than four matches given all of the factors involved. And, as these matchmaking sessions were sometimes happening at the same time as panels, there is always the agonizing choice of what to do – engage in networking opportunities and conversations or sit in on panels?
Panel Sessions
I was co-moderator of the Craft Chocolate Sustainability Impact panel in the Chocolate Makers' Forum track. Alyssa-Jade McDonald Bärtl was the moderator and the panelists were Leo Palmer (20 Degrees/Olam), Denise Dahlhoff (Conference Board), Magdalena Crespo (Republica del Cacao), and Jan Schubert (Original Beans).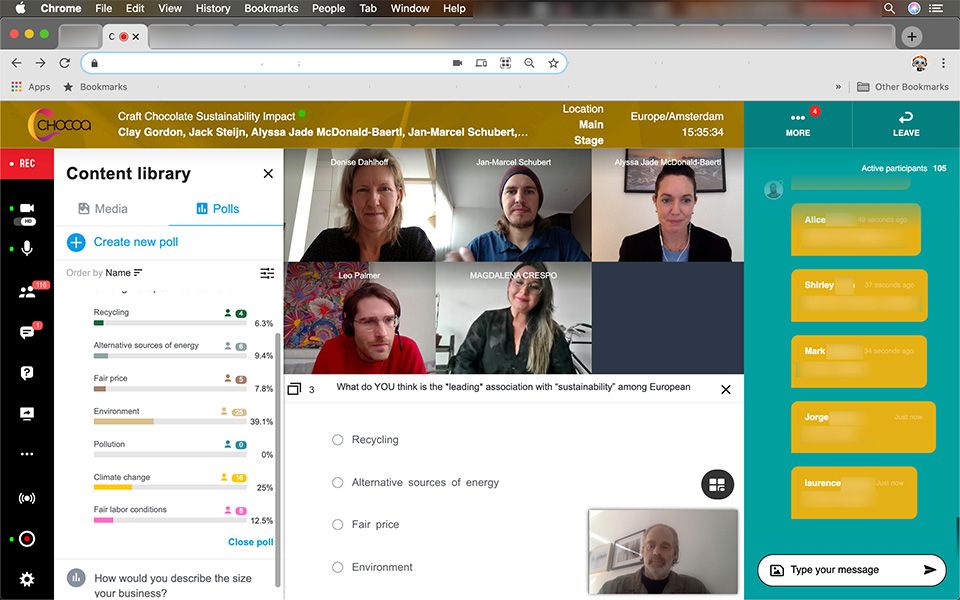 Leo, Maggie, and Jan talked about their respective companies' efforts to document and assess their sustainability efforts and how impact was communicated to customers. Denise's presentation covered recent research the Conference Board had done into consumer attitudes towards sustainability which showed that how people perceived sustainability differed depending on where they were on the globe. This set up our first poll question – which you can see in the screenshot. The answers from the participants mirrored the study results.
This information is important because it tells chocolate makers there is no one single sustainability message. There is the need to tailor marketing language to reflect differences in perception about the meaning of key terms. Without this understanding, consumers in a market may not be moved or motivated to purchase a product even though the exact same messaging may be effective in another market.
As c0-moderator, most of my work was behind the scenes keeping track of questions to feed to the panelists and responding in the live chat stream.
And as is common with every conference program I have been in, there is never enough time. For the presentation part of the panel we could have easily used another 30 minutes as well as another 30 minutes to answer questions.
Concluding Reflections
In the midst of radically different market conditions from previous Chocoas, the organizers deftly managed to pull off a virtual event that had most of the hallmarks of their live events but enough of the critical hallmarks. Missing were the tasting and pairing classes, the hot chocolate competition, being able to wander around exhibitor stands and sample all the chocolate you care to, and the live bean auction.
While no software platform is perfect and as someone with years of experience in UI/UX design, I can quibble about things I would like to see the platform do better. But as someone who has managed the event app for a chocolate festival I know from firsthand experience that what you don't know you don't know is always a factor. Considering that this was the first time using the platform and there was no real way to trial the live event in advance, the team behind Virtual Chocoa 2021 delivered a smashing success from my perspective as a panel co-moderator and as a participant when I wasn't moderating.
Most importantly, the core value propositions – gathering people from around the globe representing all aspects of the cocoa and chocolate industry from small farmers to industrial producers to share their knowledge and passion, learn from each other, and to make meaningful connections – the things I have come to value most about Chocoa, was delivered.
In the closing remarks it was revealed that the average engagement time was on the order of about 4.5 hours – which is a truly remarkable and is a testament for the level of the engagement the platform provided. And while the desktop app will close down, the phone app will be live for another three months, enabling the engagement to continue.
While of course there is no replacing the actual intimacy of one-on-one interactions, the platform's support for serendipitous engagement (random matching) and spontaneity – being able to connect with other participants in the moment via text or video chat – left me wanting more, and with the feeling that the time spent was worth getting up before the crack of dawn to participate in some of the earlier sessions. While I want to be able to return to Amsterdam for Chocoa 2022, I would not hesitate to participate in another virtual Chocoa.
---
Listing image credit: ©2019 Clay Gordon – A reflection of buildings off the water in a canal in the Jordaan district of Amsterdam.
Were you at Chocoa? Have your own thoughts on the event you'd like to share? Let us know in the comments.
---