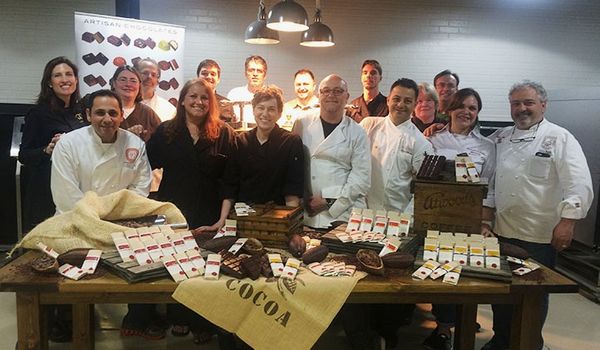 DONE – Bean-to-bar class in Las Vegas – May 6-8, 2019
This is the fifth year this class has been given, and is again being co–taught by ChocolateLife founder Clay Gordon and Jean-Marie Auboine in his manufacturing facility/school in Las Vegas. Clay and Jean–Marie have more than 15 years of combined experience making chocolate and more than 40 years years combined experience in chocolate, confectionery, and pastry.
Over the three day course, participants will be involved in the hands–on production of chocolate from sorting beans all the way though to tempering, depositing, and wrapping. At least two different completed batches of chocolate will be made, a dark chocolate and a milk chocolate. The focus is on the processes of making chocolate, not solely teaching the use of specific machines.
Topics to be covered in class:
Costing and other business issues
Bean selection, sorting and cleaning
Roasting and roasting profiles
Recipe development
Cracking and winnowing
Grinding and refining
Conching
Tempering, molding, and depositing
Time to discuss a wide range of topics related to chocolate making in an AMA (Ask Us Anything) format is scheduled over the course of the class.
Tuition is $700/pp (~33% discount) if booked through TheChocolateLife. Tuition for FBM customers: $500. Tuition covers all course materials and handouts, lunches all three days, one group dinner, two group gatherings at the HQ hotel (TBD), and daily r/t transportation from the HQ hotel to the JMA school.
​As was mentioned, the number of students is limited to 12 and seats are available on a first-come, first-served, basis.
If you are interested in attending and/or for more information, send an email to tcl_info@thechocolatelife.com.
---
Archived Comments
---
reply toJason – I replied to your original email, it came to me at 3:20am local time and I was busy this morning. There is still availability.
---
Is there still availability? I wasnt sure if you had gotten my email .thanks Jason
---
Pictured in the class photo are Sal Martone the exec PC of Robuchon (ex- Las Vegas, now corporate and based here in NY) as well as Gary Rulli of Emporio Rulli in the SF Bay area.