La Ruta del Cacao - Day 1


Investment in the cacao industry in Peru over the past two decades has resulted in an increase in the quantity of cacao grown at all levels of quality, From CCN-51, a highly productive bulk hybrid that is not considered to be a fine flavor variety, to many highly sought-after varieties.
La Ruta is an integral part of the Salon program in which about a dozen international visitors (mostly chocolate makers and cocoa buyers) are shown around the countryside, visiting farms and co-ops and taking part in cultural programs that include song and dance.
Our first visit of La Ruta 2017 was to a model farm about an hour's drive west of Pucallpa. This farm receives a lot of technical support from many NGOs (non-governmental organizations), and is used to test and demonstrate farming techniques designed to improve productivity. The variety grown on this farm is CCN-51, and represents the fundamental tension that exists in a country that wants to celebrate fine flavor cocoa varieties and yet has planted a huge quantity of CCN-51 for its productivity. The issues at hand are, of course, incredibly complex, weaving efforts to combat drugs to fighting poverty, among many others.
The visit after the model farm was to the benefit center (processing center) of Ucayali River Cacao. There we saw impressive fermentation and drying facilities that can handle 100MT of cacao (dry) per year.

Ucayali River Cacao is different from many processors in that they send trucks to the farms to collect the wet beans. This enables to control quality at a very different level and to ensure that they process only cacao fino. Some of their processes are unusual (for example, I have never heard of anyone determining when fermentation is over by tasting beans), but the end results are quite impressive. They have strong traceability programs in place and blend their beans to deliver a level of consistency that chocolate makers – who have won awards using their beans – appreciate.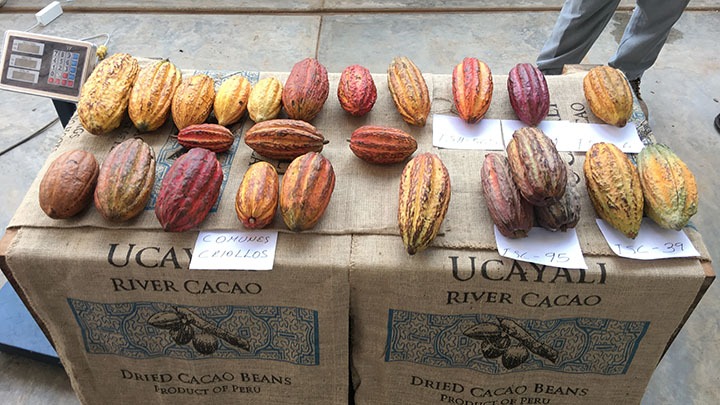 ---
Archived Comments