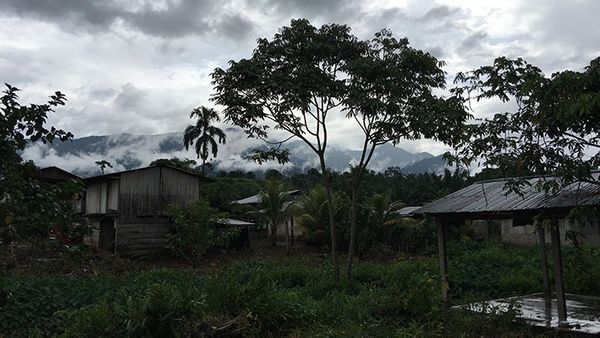 La Ruta del Cacao - Day 2
Today's journey takes us from Pucallpa along the Yura river to Tingo Maria – a distance of about 300km (180 miles) – on a road that is prone to washing out.
Despite our best efforts to leave Pucallpa on time, one of the vehicles transporting us arrived with mechanical problems that took a while to sort out. The group departed in waves to rendezvous at our first appointment of the morning. Though the skies were clear and the morning hot and humid when we left, by the time we arrived at our first destination, we drove through a torrential downpour. The rain and the delay meant that the first activity of the morning, which was to take part in some harvesting, did not happen.
Instead, we visited the chocolate factory of the women's auxiliary of the co-op hosting us. It is very common for the men in a co-op to focus on agricultural work while the women focus on making value-added products for sale into the local economy and to tourists. These factories are often housed in modest structures and filled with equipment supplied by NGOs looking to encourage these efforts.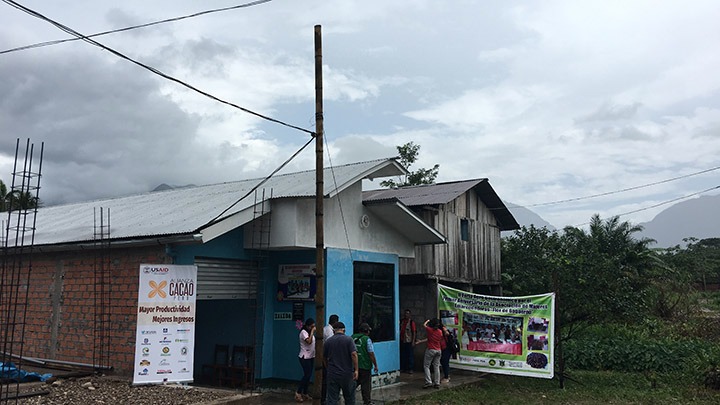 Above the exterior of the factory building which also houses administration and warehousing. Below the factory itself. There is a drum roaster at the back, with a mixer and a grinder along the left wall. (Above, the view from the front door to the factory. While things may look very poor (and often are), they are also often situated in places that offer vignettes of great beauty.)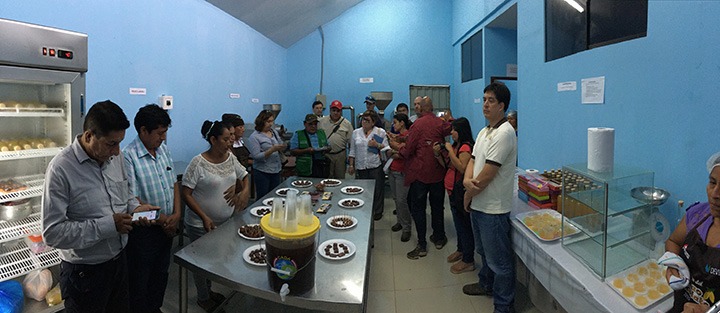 The chocolates, though rustic by European standards, were quite tasty, and one contained finely ground local coffee and would appeal to just about anyone who liked coffee. To the right here in the small cups are sample of a local cocoa wine they produce. The claim is that it is 30% alcohol (60 proof) which I did not believe, but it was *mas fuerte* (very strong). Also unrefined. But with a little work it could be very good.
Lunch was at a local tourist mecca el Velo de la Novia, a famous waterfall with a wonderful backstory akin to Romeo and Juliet (and far older tales). The road was closed for repairs (opened in each direction at times to let traffic flow), but because we were on government business, the gates were raised and we did not need to wait 90 minutes until the next window.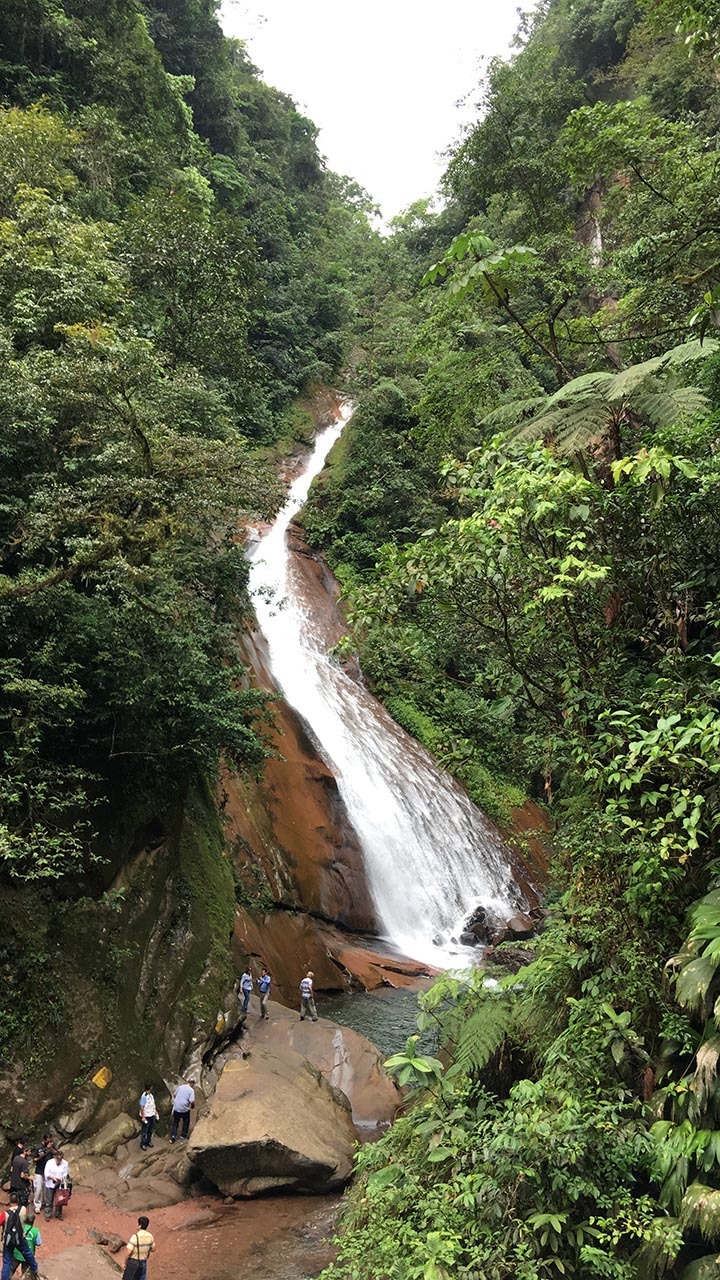 After lunch (chaufa – a staple of stir–fried rice with scrambled eggs, cecina (local bacon), and chorizo topped with a wonderful spicy fruit sauce made with cocona), we got back in the vehicles for the drive to Tingo Maria where we were to spend the night.
Dinner involved presentations from the local cocoa community – and more chaufa, which was also what was for breakfast.

When in the middle of these presentations it's difficult to understand the importance of these visits to the local producers and to the government agencies and NGOs who organize them. Cacao is an important crop and there is a lot of dependence on federal and international funding and support. While we are there as buyers of cocoa and members of the press and more, we are also here to let local producers know that their work does not go unrecognized.
---
Archived Comments
---
Amazing photos! That waterfall must have been amazing, and the food and chocolate sound great. Can't wait to try some!