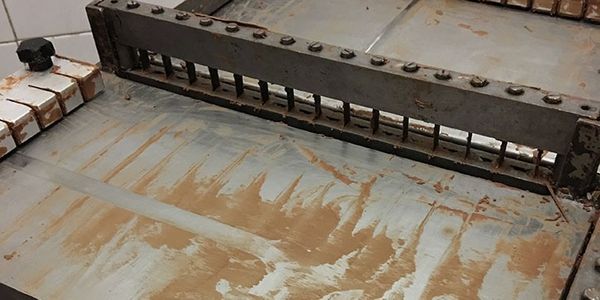 List Of Equipment Required For Small Scale Chocolate Business
@Larry2
05/29/13 08:14:58PM
We are still a very young company, but have been able to get going with a usedHilliard Little Dipper tempering machine, a fist full of dipping forks, & cups/boxes I was able to secure. We make cream centers and are building up the ability to produce more volume.
Short list of equipment
– Book by P. Greweling *Chocolates and Confections: Formula, Theory, and Technique for the Artisan Confectioner* – It's fantastic and will really help. The latest edition has info on setting upa chocolate shop.
– Tempering Machine (Many will say this is optional, but make your life easier & spring for it.)
– Depending on if you'll do Ganache, Cream Fondant, Caramels… you'll need different pots, kettles. You'll be the best judge here.
– Dipping Forks
– Molds as you suggested.
– We have used a Square & iPhoneto process credit/debit cards. It works fine.
– Discovering that caramel will not stick to buttered parchment paper was a fantastic discovery for us.
– A good thermometer or two
– Refrigerator
– Fire extinguisher
– Panning equipment (optional)
– Display cases – Refrigeration may be needed
– ?? Humidity Controlled Display Cases??
– A caramel cutter (rolling pin style) is useful, but you can get by with a knife & ruler.
– Assorted bowls, measuring spoons, cups, scale…
– wax paper
Please forgive the disjointed list. Just to re-emphasis the book I listed above has been a great help to me and many others.
Thanks!
Larry
---
Archived Comments
---
@TheChocolateMan
05/30/13 03:07:
Hi Larry,
Thanks for the valuable info. I will buy the book and am sure it will be helpful. When did you start your chocolate business?
TheChocolateman
—
@Andal Balu
06/02/13 10:03:27PM
Do you want to start from couverture or from beans?
—
@TheChocolateMan
06/03/13 12:33:24AM
I am kinda new in this industry, hence would like to start from couverture.
—
@Larry2
06/03/13 12:21:16PM
Chocolate has been a family tradition for years and years, but we started selling last October.
—
@TheChocolateMan
06/10/13 05:32:18AM
Thanks, appreciate your honest reply.
—
@Lisa Morley
01/14/14 05:16:13PM
Hi Larry — Do you use your caramel cutter for ganache slabs? I'm just starting up a little chocolate business myself and if possible would prefer to not shell out thousands on a guitar cutter if I can just use a caramel cutter.
Cheers
Lisa
—
@Chocotoymaker
01/14/14 08:43:46PM
You can just as easily use a pairing knife and a ruler. A little bit of practice and you,ll be able to get at least 100 square in 20 cuts. Total investment $ 5.
—
@Larry2
01/15/14 02:39:23PM
All our centers are fondant, so I can't really speak to how it would do for ganache.
With the fondant, we just use the caramel cutter to score the fondant and caramel, then cut it with a long chef's knife.
A guitar cutter is on my short list of equipment to buy though. I dream of how much time could be save with a guitar.
—
@GretaHass
04/18/17 02:32:16AM
Sounds good in this thread, hmm. Any recipes to shareeee.. 😀