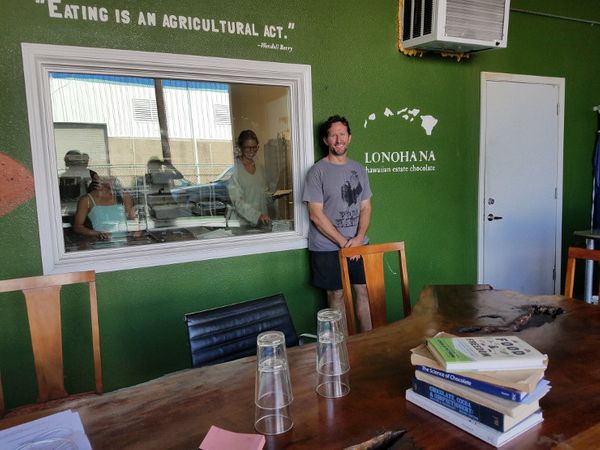 Lonohana Chocolate: Building a better ecosystem for cacao on Oahu
Author: Lauren Adler.
On my travels to Hawaii a few weeks ago, I visited Seneca Klassen of Lonohana Chocolate in Oahu as he and his team prepared for the opening of their new retail store. The store had a soft opening in early October with the official grand opening celebration Friday and Saturday October 20 & 21.
In the past Lonohana has focused exclusively on selling chocolate bars through a CSA-type subscription model with occasional factory tours. Lonohana's first retail store is located in a revitalized shopping center owned by the Kamehameha Schools Mission, a private trust endowed by the great grandaughter of King Kamehameha to benefit the cultural education of the Hawaiian people. The revitalized shopping center is called SALT at Our Kaka'ako, and it is meant to serve as Honolulu's epicenter for local culture, food, shopping and innovative events. It houses 85,000 square-feet of curated retail, restaurant and mixed-use space in a city block.
Seneca and his team members, Sharla and Sarah, have been working feverishly to complete the build out of the new location, and to prep enough inventory to supply chocolate to the three sales channels they now support: club members, the website and the new store. As a result, Lonohana currently has its broadest selection of inventory available online. In addition to offering a full selection of chocolate bars, Lonohana has brought back three limited-edition chocolate bars that are its most requested. First up is Lucky 7, a 77% dark chocolate bar made exclusively with Oahu-origin cacao. Next is Alae Ula, a 67% dark chocolate bar made with Big Island cacao, roasted nibs and Alae sea salt from Moloka'i. And, finally, a keiki favorite (Hawaiian for "children"), Hapalua Dark Milk 50% made with cacao from the Lonohana Estate.
When I arrived at Lonohana's factory in an industrial area of Honolulu, I found a garage-like environment with a small room for refining, and a separate air-conditioned room for tempering and molding. The batch of chocolate that was refining in Seneca's Cocoatown still had a few days left to conche. Seneca starts his chocolate-making process with a 24-hour nib grind followed by a six-day melange using low tension on the Cocoatown to allow for even particle distribution. His goal is to get the best particle distribution possible, resulting in smooth, creamy texture and excellent flavor development. We ended our visit with a chocolate tasting with his team, enjoying the amazing flavor of the North Shore 73%, the Coconut Crunch (Coconut Milk with Nibs) and the Cafe au Lait.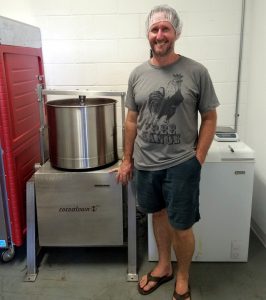 ​
The following day I met Seneca at his cacao farm overlooking the North Shore of Oahu, where he leases a plot of land from a trust of the Kamehameha family. The land was a sugar cane farm from 1896-1996, at which time the 100 year lease ended. The land sits on top of a windy hill overlooking the ocean, and when he first took it over it was filled with guinea grass and head-high pepper weed. Not ideal conditions for a cacao farm. Unfortunately, Seneca learned the hard way that he would need to change his approach to farming to successfully grow cacao.
​His first crop of cacao trees developed a disease called lasio that he likens to a staph infection in humans, and he lost his entire orchard. The bacteria exists on healthy cacao leaves just like staph exists on healthy human skin. It doesn't become a disease unless an immuno-compromised tree has an open wound. His first crop of trees was located in full sun exposure with winds, subjecting the trees to radiation stress and exposing the leaves to irritation and cuts. As a result, the trees became infected with lasio. His trees died, and he had to start over. Not an inexpensive or quick process.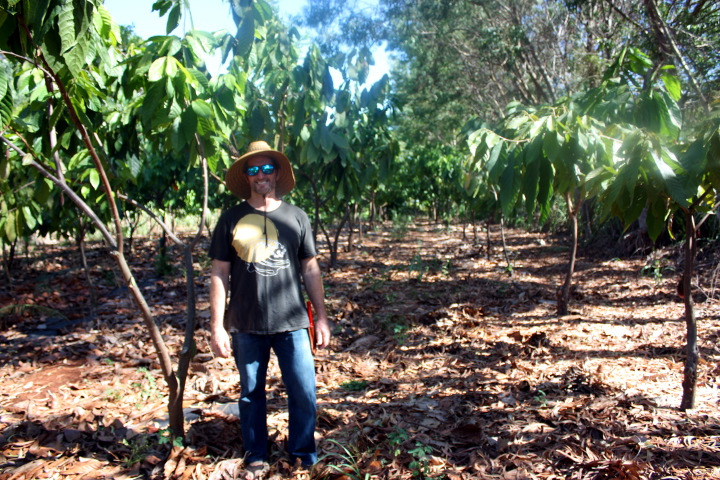 After 3-4 years of rethinking his approach to farming and replanting his trees, Seneca's farm is beginning to thrive. On my visit I saw youthful groves of cacao trees interspersed with young shade crops such as mahogany, sedro, pigeon pea and theobroma bicolor (a.k.a. madre de cacao). Seneca's new approach to cacao farming is to build a forest ecosystem to protect his cacao trees and to promote a healthy growing environment. The improvements in his cacao ecosystem are illustrated by the differences in trees planted at different times. For example, we saw trees that were 1-1/2 years old that were larger than nearby trees planted two years earlier. Seneca attributes this accelerated growth in the younger trees to the improved ecosystem.
Seneca's current orchard is seed planted, but he hopes to graft in the future once his orchard is established and it's clear which varietals are better producers. He currently has 8 productive acres with 14 potential acres.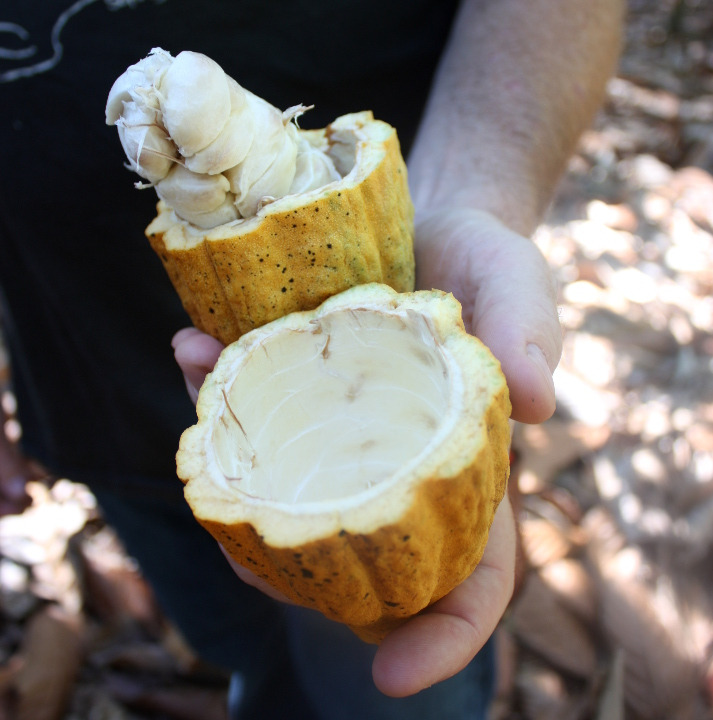 While it's been a tough journey for Seneca, things are looking up. He has gained a lot of experience through the school of hard knocks, but it has resulted in a stronger orchard and more cacao. If you visit Honolulu make sure to visit Lonohana at Salt at Our Kaka'ako and taste the fruits of Seneca's labors.
---
Archived Comments
If you would like to learn more about Hawaii cacao, make sure to watch The Chocolate Garage's documentary on Hawaii cacao, including an interview with Seneca Klassen.