2021 Holiday Gifting Guide – Updated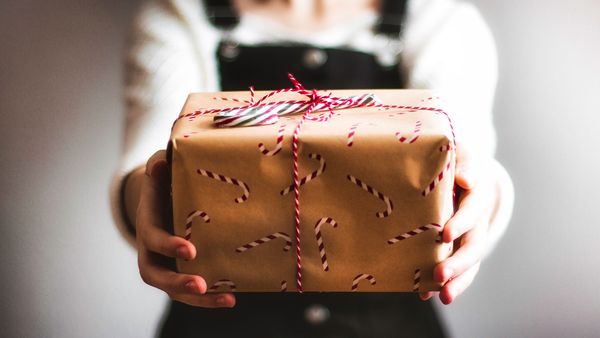 Looking to satisfy the sweet tooth of a loved one this Holiday Season? Here are some ChocolateLife endorsed ideas ...
Bonnat Chocolatier (France)
Collection Particuliére
These extremely limited edition bars – made with cacaos from Colombia, the Philippines, and Mexico – are available exclusively in the Bonnat boutique in Paris and in the factory/store in Voiron.
So why mention them here? Because it's my buying guide and Maison Bonnat occupies a very special place in my ChocolateLife.
The labels for these bars represent the culmination of a years-long project to update the artwork, bringing them into the future while respecting the past. Changes include redrawing the iconic church in new detail and the adoption of a consistent typographic language. Strengthening and standardizing these components has enabled the incorporation of other illustrative elements – to great effect, I think.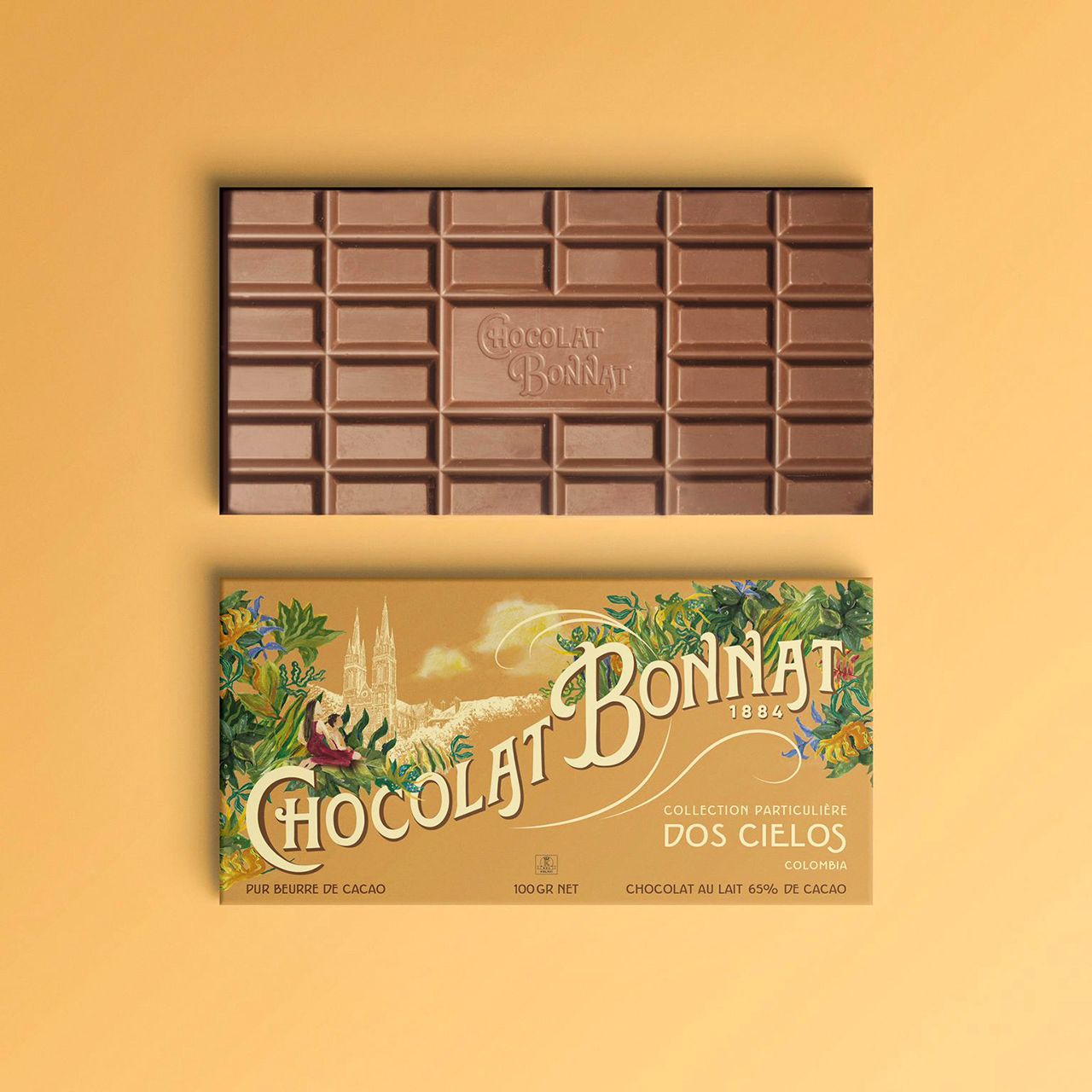 Every bar in the Collection Particuliére has a backstory.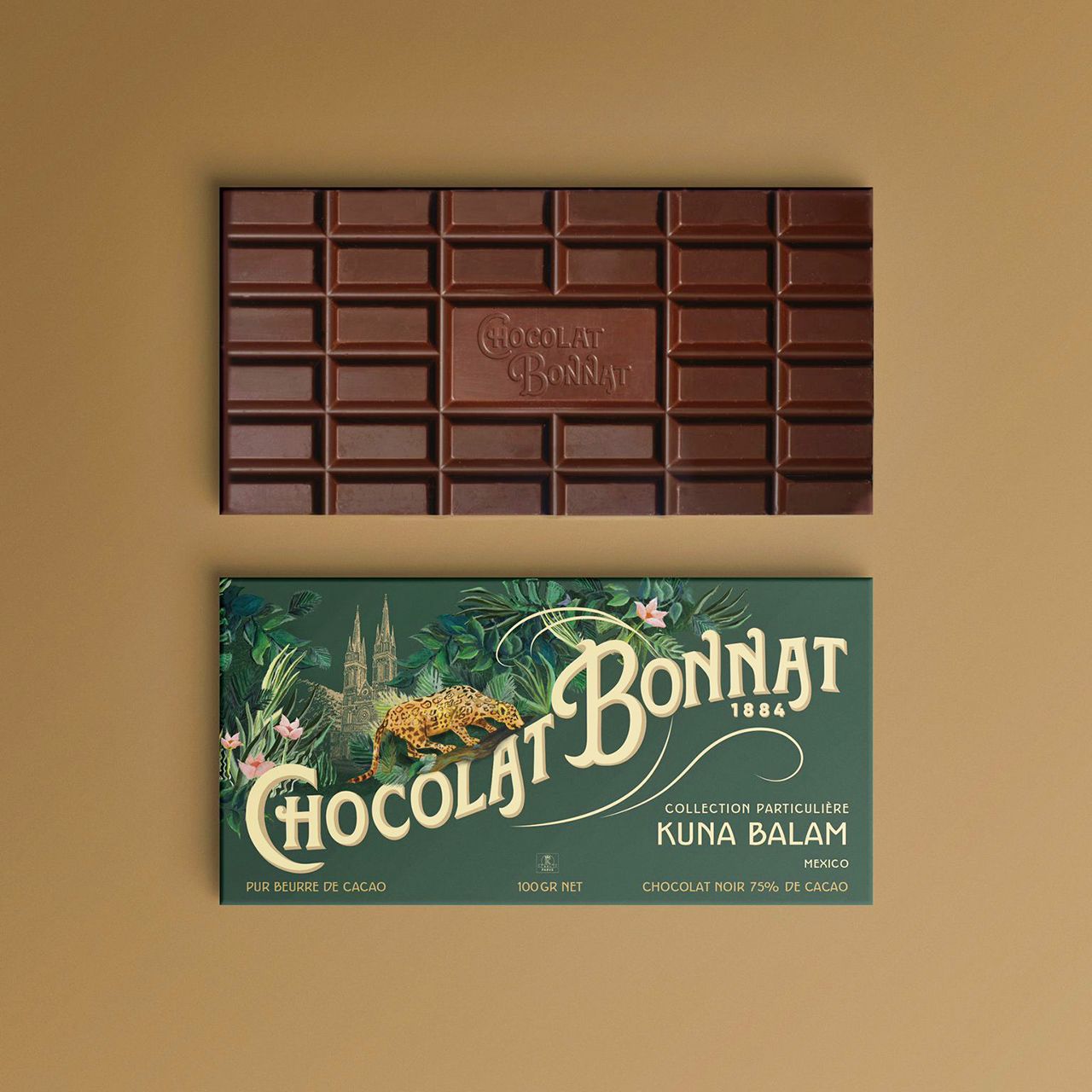 Kuna Balam means "baby jaguar" in Mayan, and the cocoa comes from a small section of the Selva Maya farm in Chiapas, Mexico – the same farm that provides the cocoa for which Bonnat was awarded the World Gold at the 2016 International Chocolate Awards for its eponymous Selva Maya bar.
Around the time that Maxime Bonnat was born, a jaguar cub and his mother made their home in a corner of the Selva Maya farm. To ensure the cub and its mother were undisturbed, access to that part of the farm was restricted. After the mother and cub pair left it was discovered that the cocoa in the section they occupied had different – in a good way! – characteristics from the main Selva Maya harvest. The area was named Kuna Balam to honor the baby jaguar.
The first harvest was just 300kg and was shared only among family members. The most recent harvest was greater, and so it was decided to share this special cocoa – and the story – outside the family. It is my pleasure and privilege to share it with you.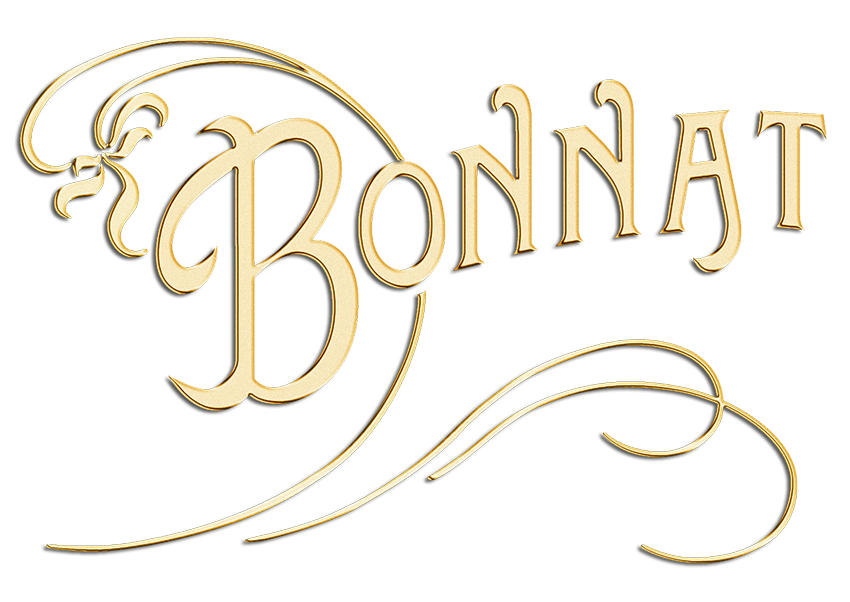 ---
Xocolla Craft Chocolate (Texas)
Maker's Mark Brownies
While I'd known of Xocolla for some time, I got to spend time in person with founder Tony Najjar at the 2019 Dallas Chocolate Festival. (September 2019 seems soooooooo long ago, now.) I got the opportunity to taste across the entire range of products Xocolla produces and the level of quality – taste and finish – across everything I tasted was impressive.
But the one OMfG! moment was tasting Tony's Maker's Mark brownie. Available only from early November through February, if you like brownies and you like bourbon, or you know someone who does – and face it, which of us doesn't know someone who's a fan of chocolate and bourbon? – then this is a treat you should seriously consider. Already have Christmas shopping taken care of? Consider gifting these for Valentine's day. Or a birthday. Or make up an excuse, though no excuse is ever necessary.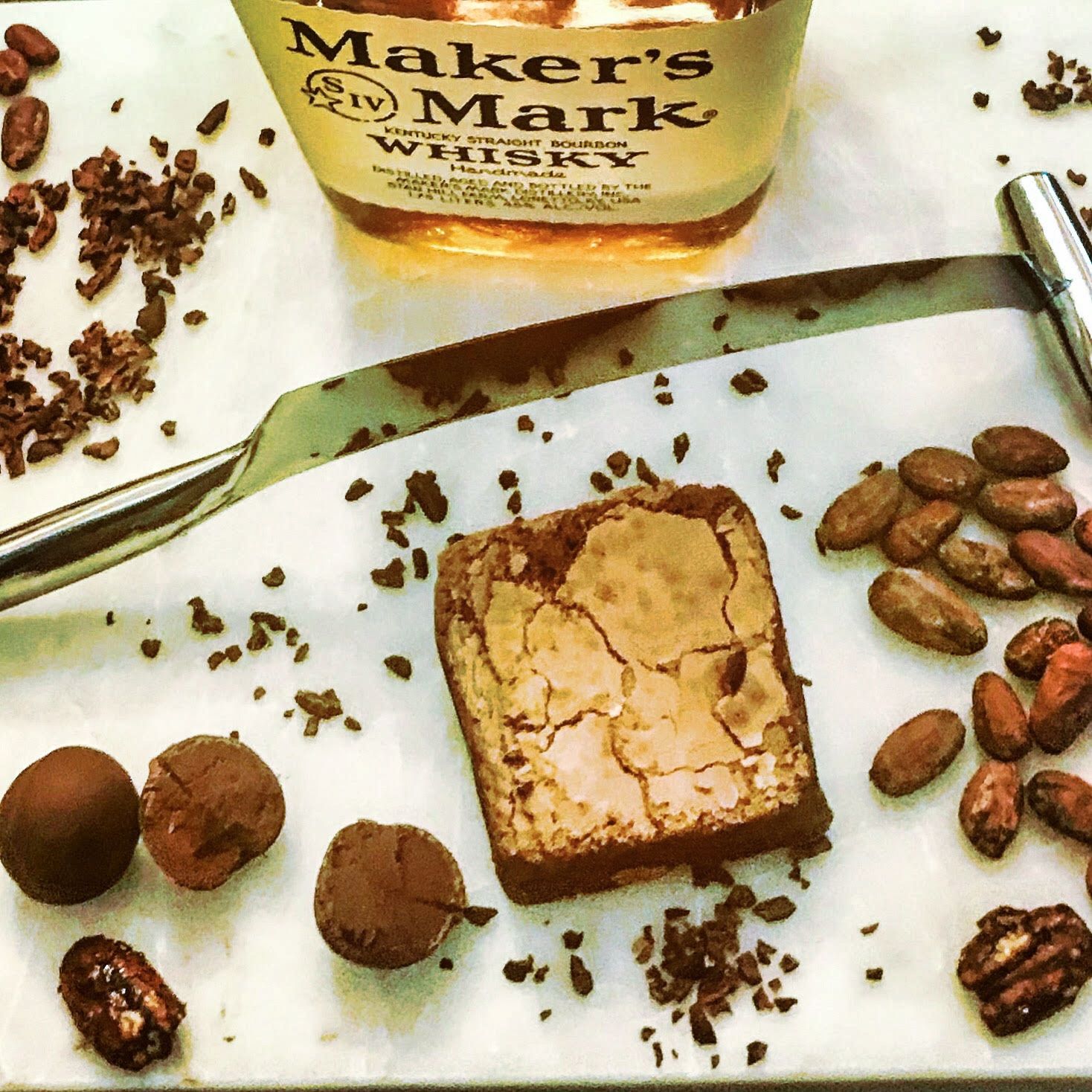 Not interested in brownies or bourbon? Whaaaaaaaaat? For the nut fanatics in your gifting universe (including yourself), Xocolla's range of nut-filled gianduja bars – hazelnut/milk, pecan/dark, pistachio/matcha, and macadamia/white – is also well worth considering. In my estimation, pecans are an underappreciated nut in confectionery and chocolate and so I was very happy to see them here – just look at those pecans.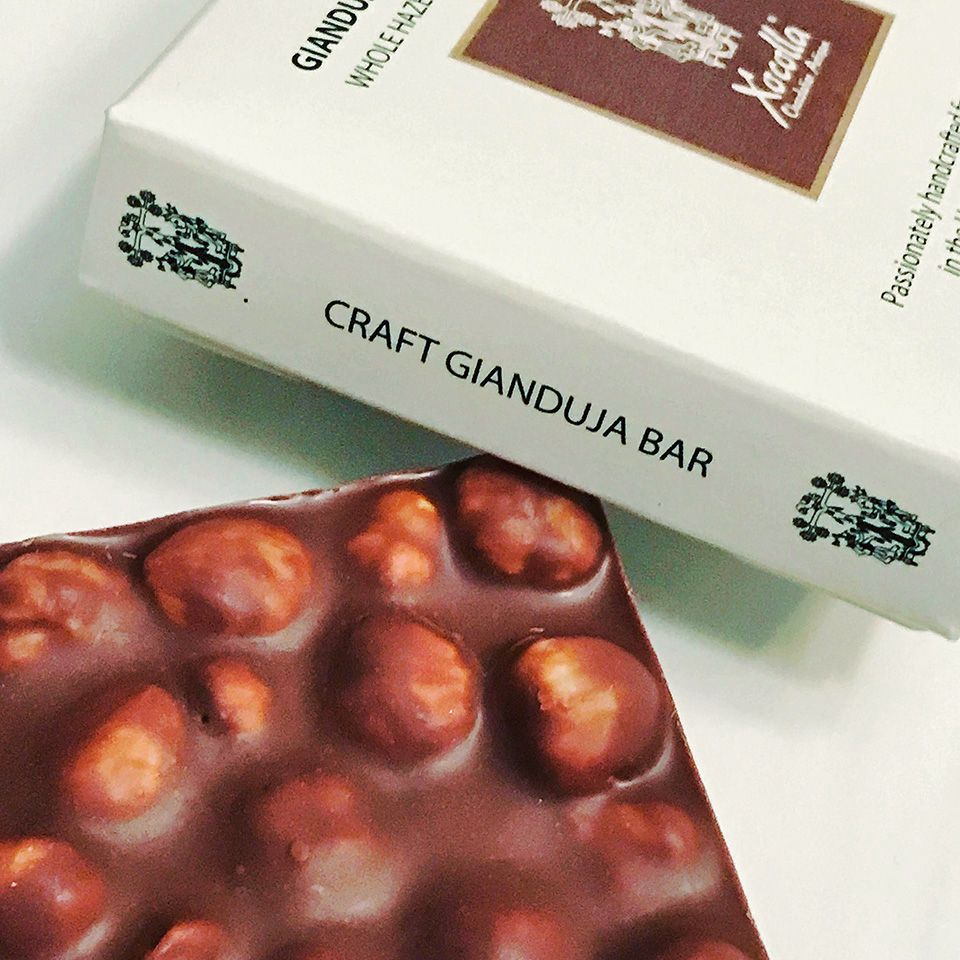 If none of the above tickles your fancy, check out the Xocolla website for single-origin bars from Venezuela, Tanzania, Colombia, and Peru. Or try one (or more!) of their new Caramel Macchiato bars. Or house-candied orange slices dipped in house-made chocolate from Madagascan beans.
---
Caputo's Preservation Program
Wild Juruá Brazil 70% (Luisa Abram)
I first became aware of wild cacao – cacao silvestre in Spanish – in 2006 via Felchlin's Cru Sauvage bar made from wild-harvested cacao found on Volker Lehmann's Hacienda Tranquilidad in the Beni department of Bolivia not far from the border with Brazil. I was fortunate to visit in January 2010, spending part of a day foraging for the wild cacao with a local family.
Before its domestication by the Olmecs and Toltecs in Mesoamerica, all cacao in South America (where it originated, in the Upper Amazon River Basin) would have been foraged. Today, foraging for wild (not deliberately planted and tended) cacao is on the verge of disappearing. And, along with the families whose livelihoods depend in part on foraging, the cacao itself will be in danger of being lost.
Recognizing this possibility, Caputo's Market and Deli has formed a partnership with Luisa Abram Chocolate to ensure that the wild cacao – o cacau selvagem – growing along the Juruá River – which originates in the Perúvian highlands east of the Ucayali river, crossing the border into the Brazilian State of Acre before flowing through the State of Amazonas before emptying into the River Solimões as it wends its way to the Amazon itself – does not disappear.
In this partnership, 100% of the chocolate made from these rare, wild beans destined for the American market is exclusively available through Caputo's.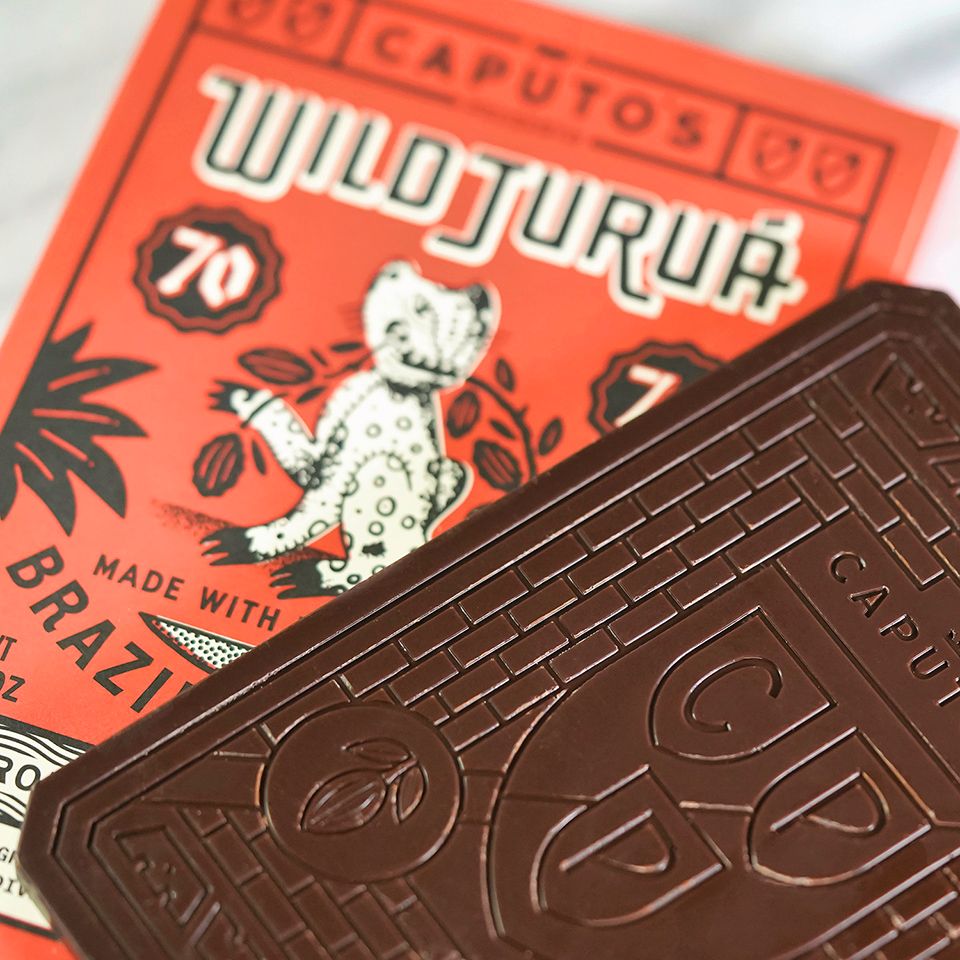 The first way is to purchase one or more bars for yourself and/or for gifting.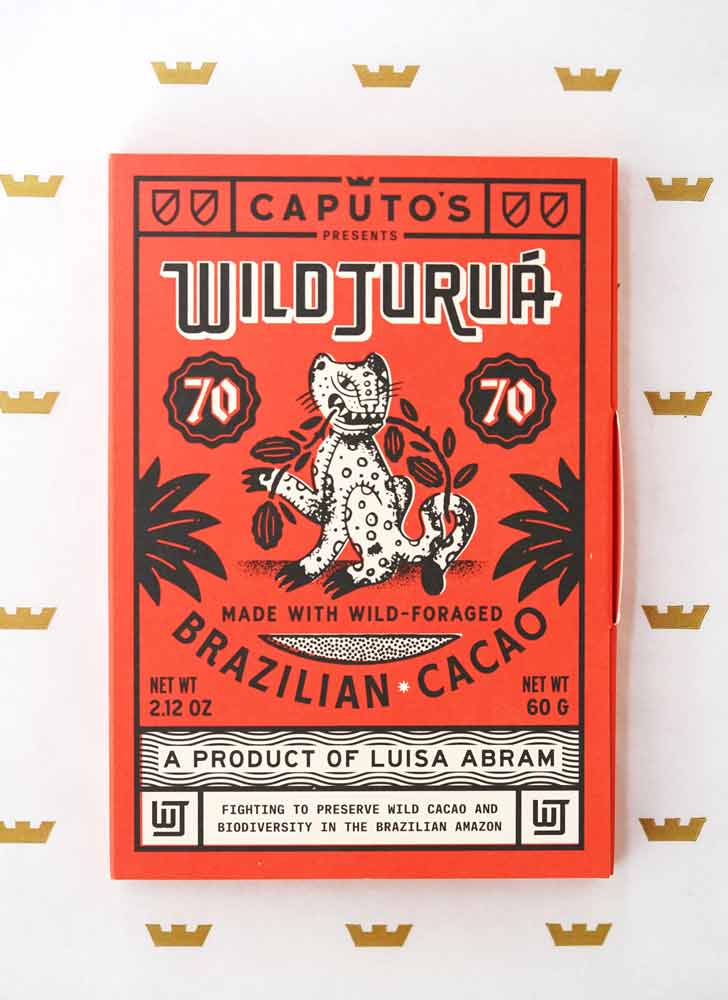 The second way is to purchase a ticket to Caputo's 10th Annual Caputo's Chocolate Festival, this year featuring the work of Luisa Abram.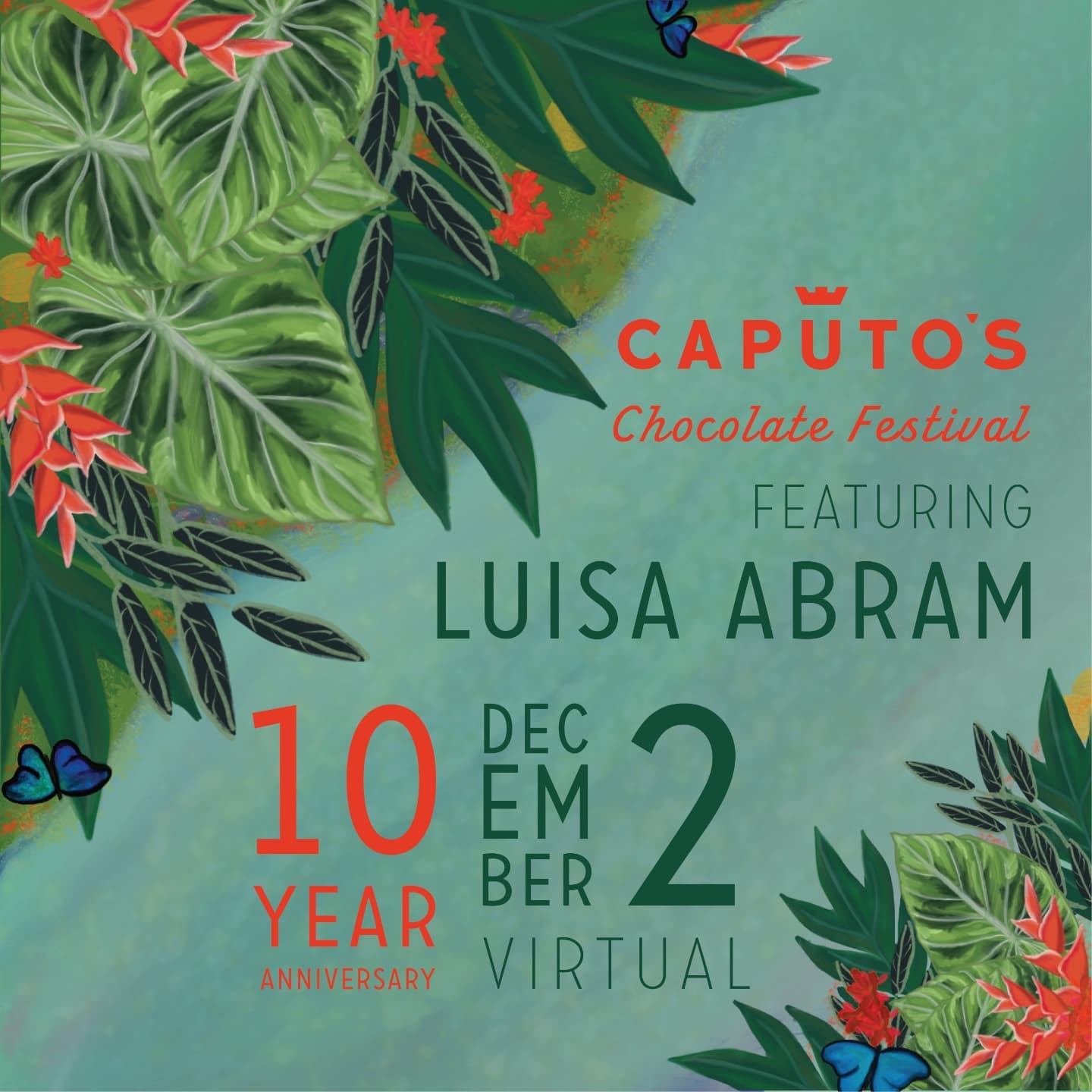 While the festival itself is being held virtually on December 2nd, tasting boxes can be ordered for pickup or shipping to addresses in the US. Click on the card below for more information and to purchase – quantities are extremely limited so don't delay!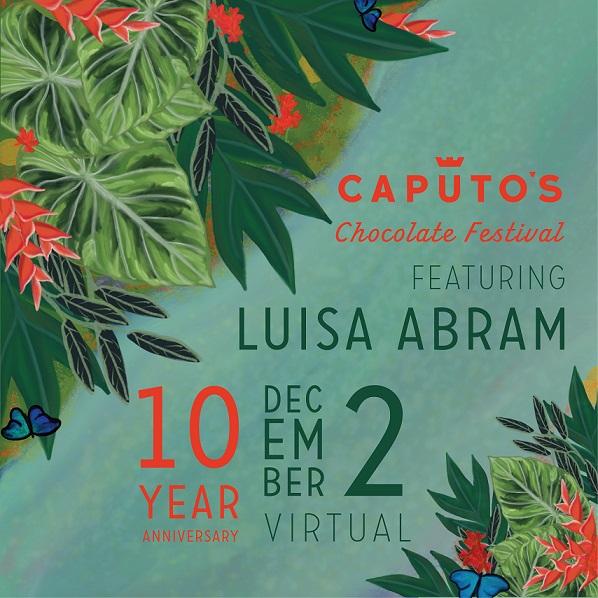 For more background information on the Caputo's Preservation Project partnership with Luisa Abram Chocolate click on the card below: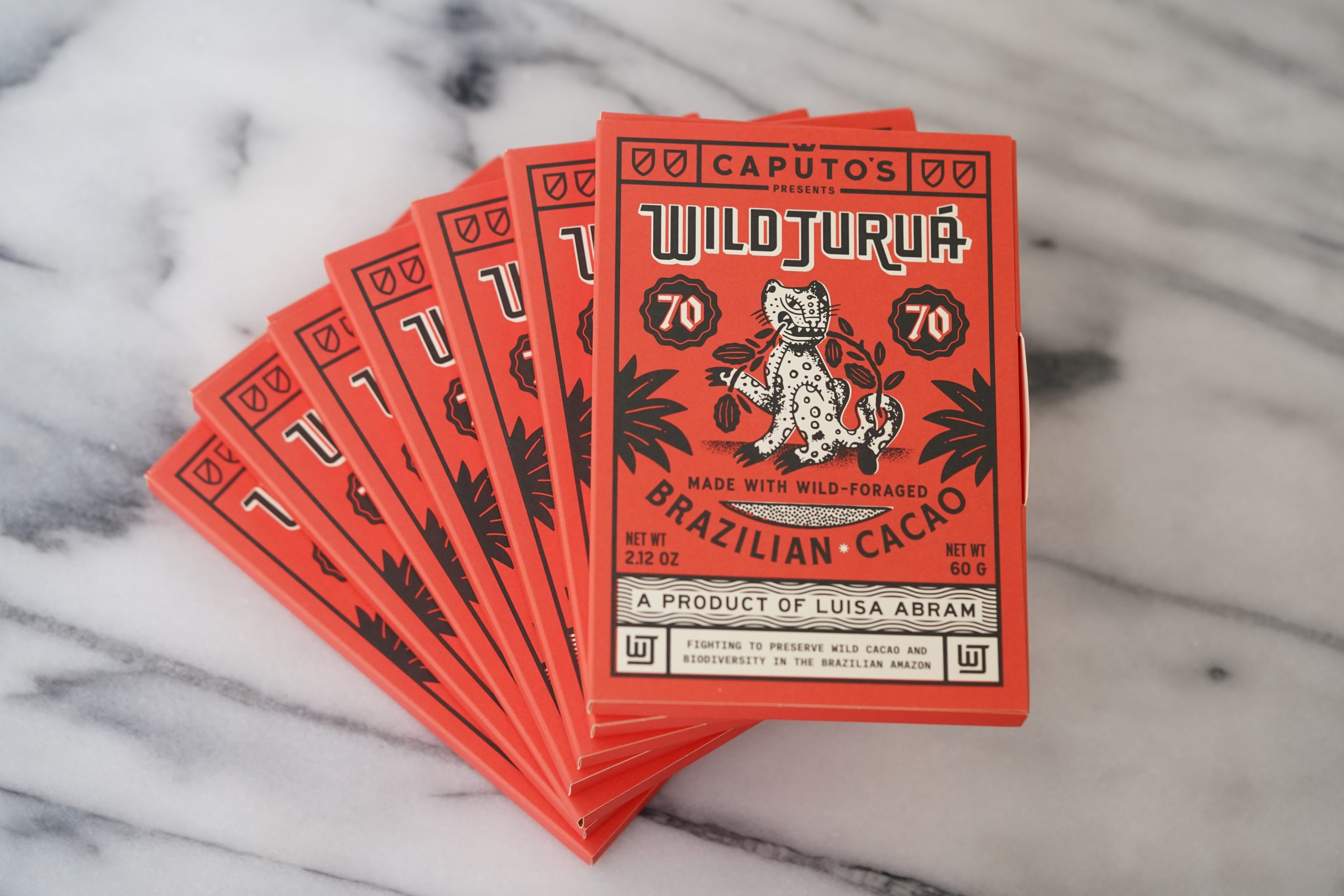 ---
Sip! Extraordinary (Chicago)
Drinking Chocolate Mixes
There exists a continuum along which chocolate beverages exist. On one end is packets of hot cocoa powder – thin bodied, very sweet, and tasting more of milk than cocoa, often with stale marshmallows. On the other end is European-style drinking chocolate – basically chocolate melted into whole milk or light cream, thick, rich, sometimes barely pourable. While I am a fan of this style (in small quantities, sitting in a café in Paris) I realize that not everyone is, no matter when or where. It is into roughly the center of this continuum that Sip! Extraordinary Drinking Chocolate mixes find themselves.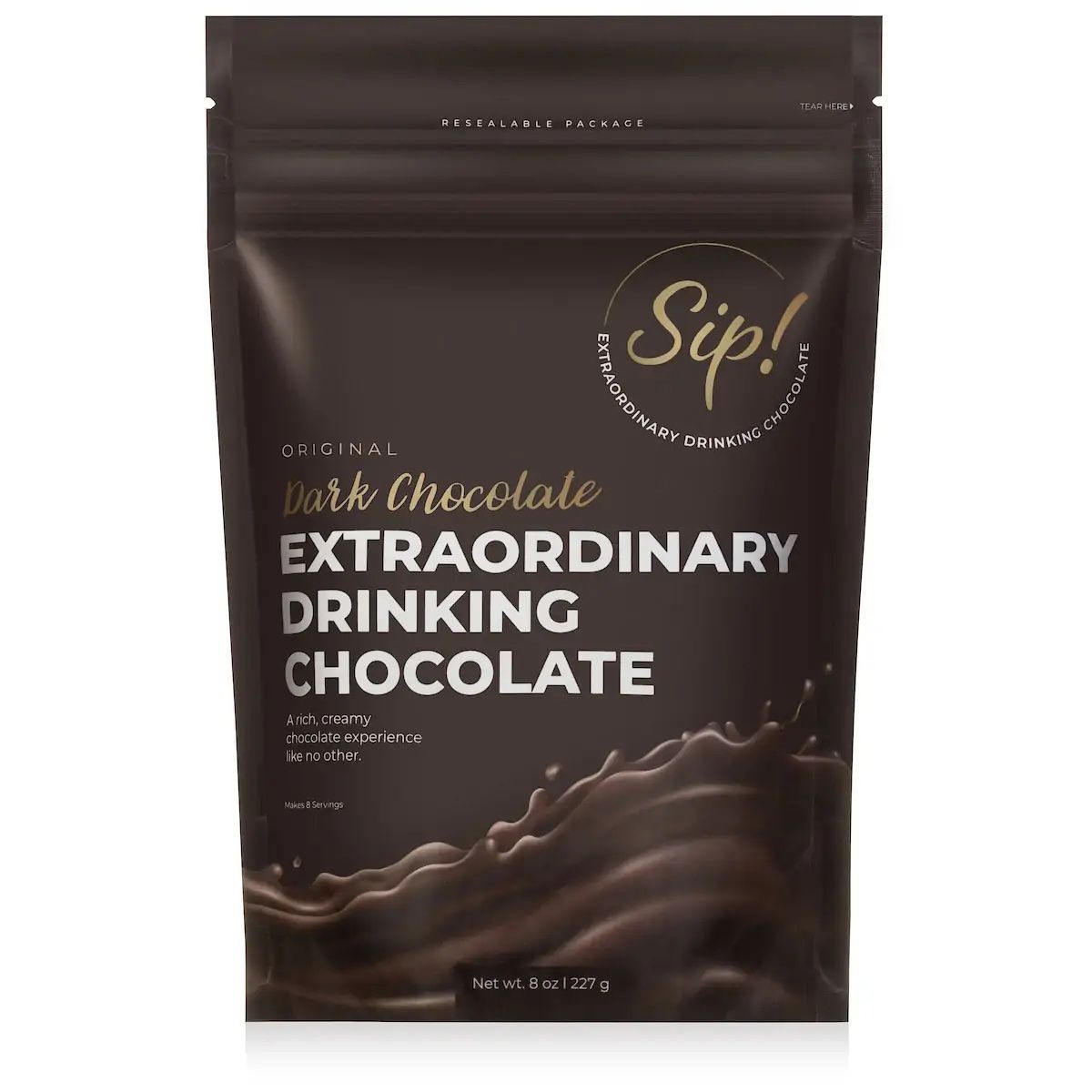 Measure four ounces (one-half cup) of your choice of dairy milk or milk alternative into a small saucepan and heat gently. When barely warm, add one ounce (28gr) of mix and start stirring. (I use a small balloon whisk.) When the mix is fully incorporated and the beverage up to the temperature of your liking, take it off the heat and continue stirring for a few more seconds. Then pour into a cup – I always prewarm mine – and relax and enjoy.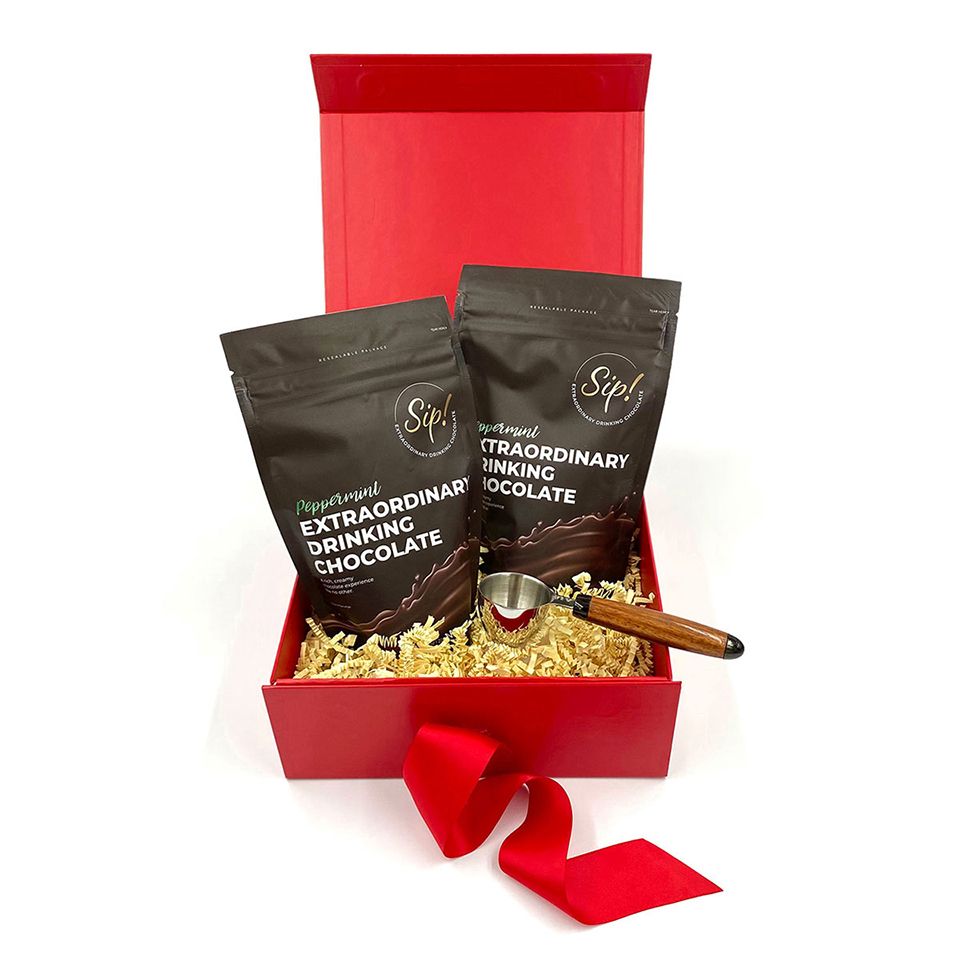 While Sip! Extraordinary mixes take a tad longer than packetized cocoa mixes to make, they take less time than melting chocolate. To my taste, the time spent is well worth it. What you end up with in the cup is far less sweet than industrial packetized cocoa mixes and less thick/syrupy than many European-style drinking chocolates – a happy and very tasty middle ground. With three flavors on offer you can also mix and match to suit your taste. I am not overly fond of strong peppermint flavors in chocolate, and I found that a half-and-half mix of the peppermint and dark chocolate mixes struck just the right balance.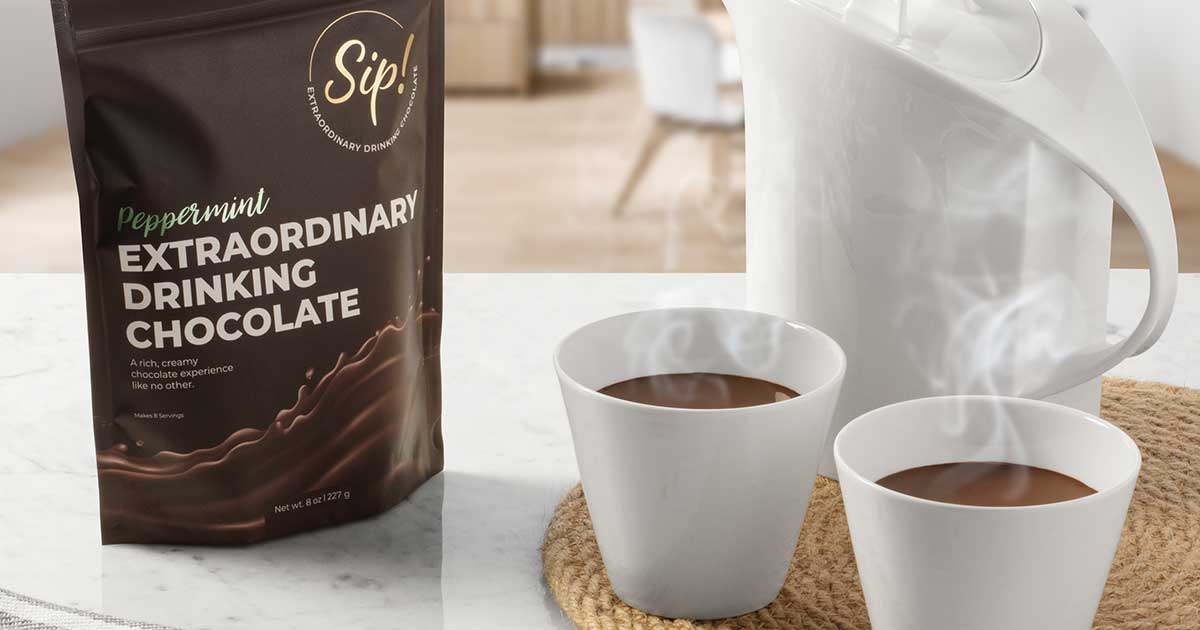 While not advertised as gluten-free, no gluten-containing ingredients are used. (The mixes are made in a factory that handles gluten-containing ingredients as well as other potential allergens.) So, YMMV.
I have to disclose a long-standing personal connection here with one of the founders of this company, En-Ming Hsu. I've known En-Ming since the mid-2000s when we were both involved with the World Pastry Forum and the World and National Pastry Team Championships. I specifically remember the Forum in Nashville in 2007 because I had my daughter Alex with me and I was able to introduce her to an amazing array of world-class pastry chef colleagues, one of whom was En-Ming. At the time, if I recall correctly, En-Ming was also the coach for the American team competing in the Coup du Monde de la Patisserie held in Lyon.
Sip! Extraordinary's other founder is En-Ming's sister, making this not only a family business but a woman-owned business so ... two more reasons to like and support.
---
Cococlectic (California)
Craft Bean-to-Bar Club – and more
There are many really very oh-so-nice things about curated chocolate subscription boxes, whether as a gift for yourself, a self-gift to share, or as a gift to others. Three of my favorite of those really very oh-so-nice things are:
They show up on the doorstep bringing joy into your day.
You know what's inside is going to be a pleasant surprise.
You get to experience the thrill of being introduced to something new on a regular basis.
What are your favorites? Share them in the comments!
Cococlectic curates their boxes with a focus on US-based companies making three-ingredient (or fewer) chocolates, and who are committed to ethical sourcing. While they may be processed in facilities that handle allergens, they do not include common allergens – soy, dairy, gluten, nuts – as ingredients.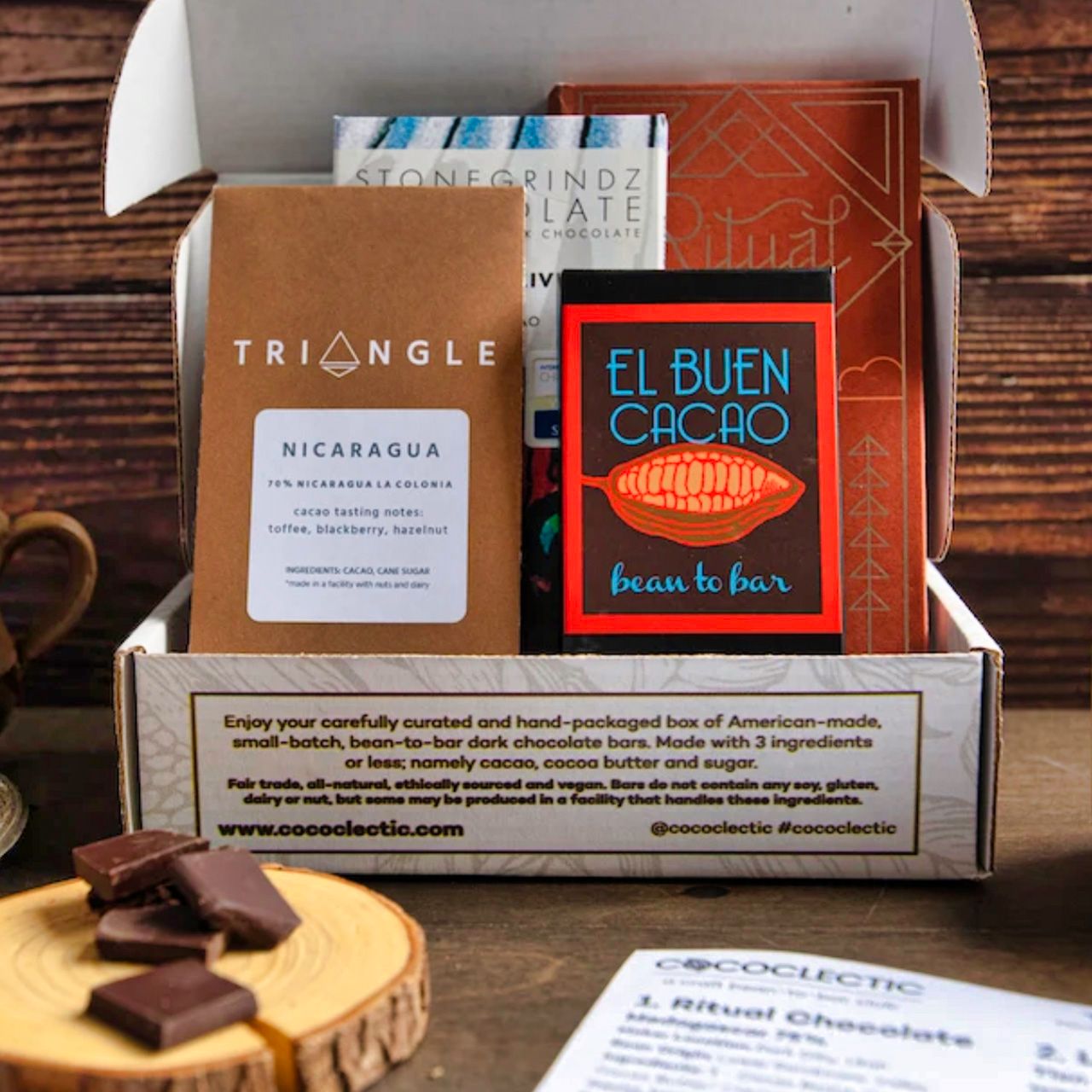 Each subscription box contains four or five bars, with each box dedicated to a single maker. Since their first subscription box back in March 2014, Cococlectic has featured the work of 70 makers. The full list can be found clicking the card below – and you can find information about each maker by following that link:
Cococlectic's Maker of the Month for October was Conjure Craft Chocolate out of Asheville, NC, where Marjory Rockwell oversees turning beans into bars. North Carolina has a number of other makers I am aware of but Conjure has flown under my radar and for me that's one of the other great things about subscription services like these. The November box features Lirio Chocolate (Knoxville, TN) – who I also did not know of. The growth of makers is so rapid it's impossible to stay on top of them all – and services like Cococlectic not only feed my chocolate appetite ... they feed my unquenchable thirst (to mix metaphors) for knowledge.
The October box included five bars made from beans from Tanzania (Kokoa Kamili, 75%), Vietnam (Dak Nong, 70%), Perú (Ucayali, 68%), the Philippines (Na Bulong, 70%), and Côte d'Ivoire (70%).
My two favorites of the Conjure bars – I've tasted all five but – these two made an impression, were the Tanzania and Vietnam bars with a slight edge going to the Vietnam bar because of it's higher overall cocoa butter content and a softer break, bite/chew, and melt – which I prefer over "drier" lower butter content bars.
There are five different subscription programs to fit every budget – there is even one for the whole office to share! So no excuses not to subscribe!
---
The History of Chocolate in NYC
Walking Tour – Sat Nov 27
If you're going to be in the NYC area over the Thanksgiving weekend – or know a chocolate lover who is or will be – then this walking tour with Michael Laiskonis and ChocolateLife founder and moderator Clay Gordon could be just the ticket to walk off a few turkey/side calories.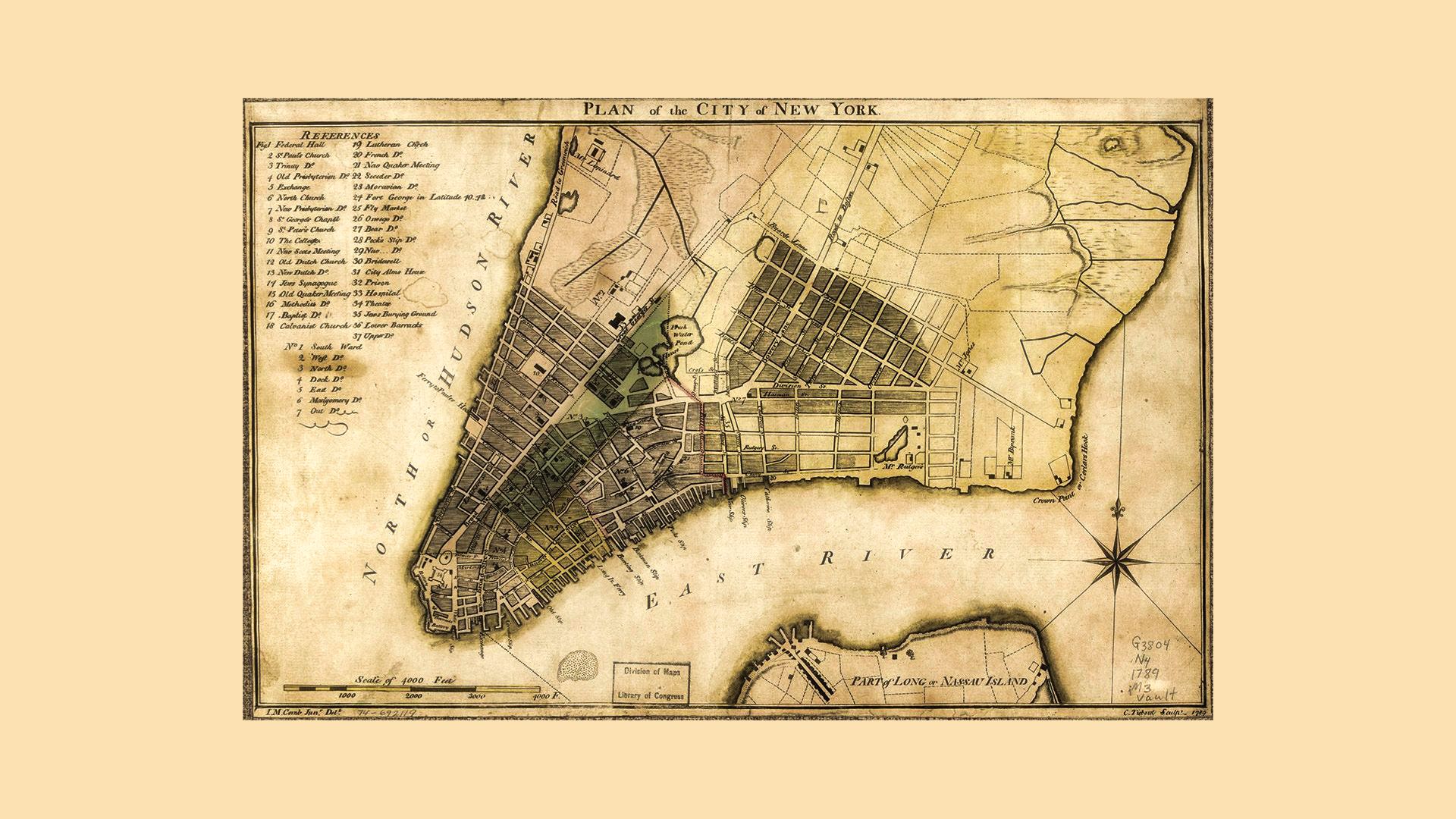 ---
READING LIST FINDS
Complete Autumn & Winter Cookbook
America's Test Kitchen
Believe it or not, there is more to life than chocolate – Gasp! (I know, right? Who would have thunk it?)
And I do have to admit I have spent many hours watching ATK videos on YouTube (h/t the What's Eating Dan series) and am a former subscriber (print and online) to Cooks Illustrated. I enjoy the deep dives into technique, I've learned to trust that guidance, and have had nothing but success with the dozens of Cooks Illustrated and ATK recipes I have tried over the years.
Not quite 10% of the recipes in The Complete Autumn & Winter Cookbook book have cocoa or chocolate as an ingredient and the recipes run the gamut from those that small children will like (and could easily participate in the making of) to those with significant adult appeal. There is also a section of recipes suitable for gifting, making this cookbook an interesting meta-choice for gifting.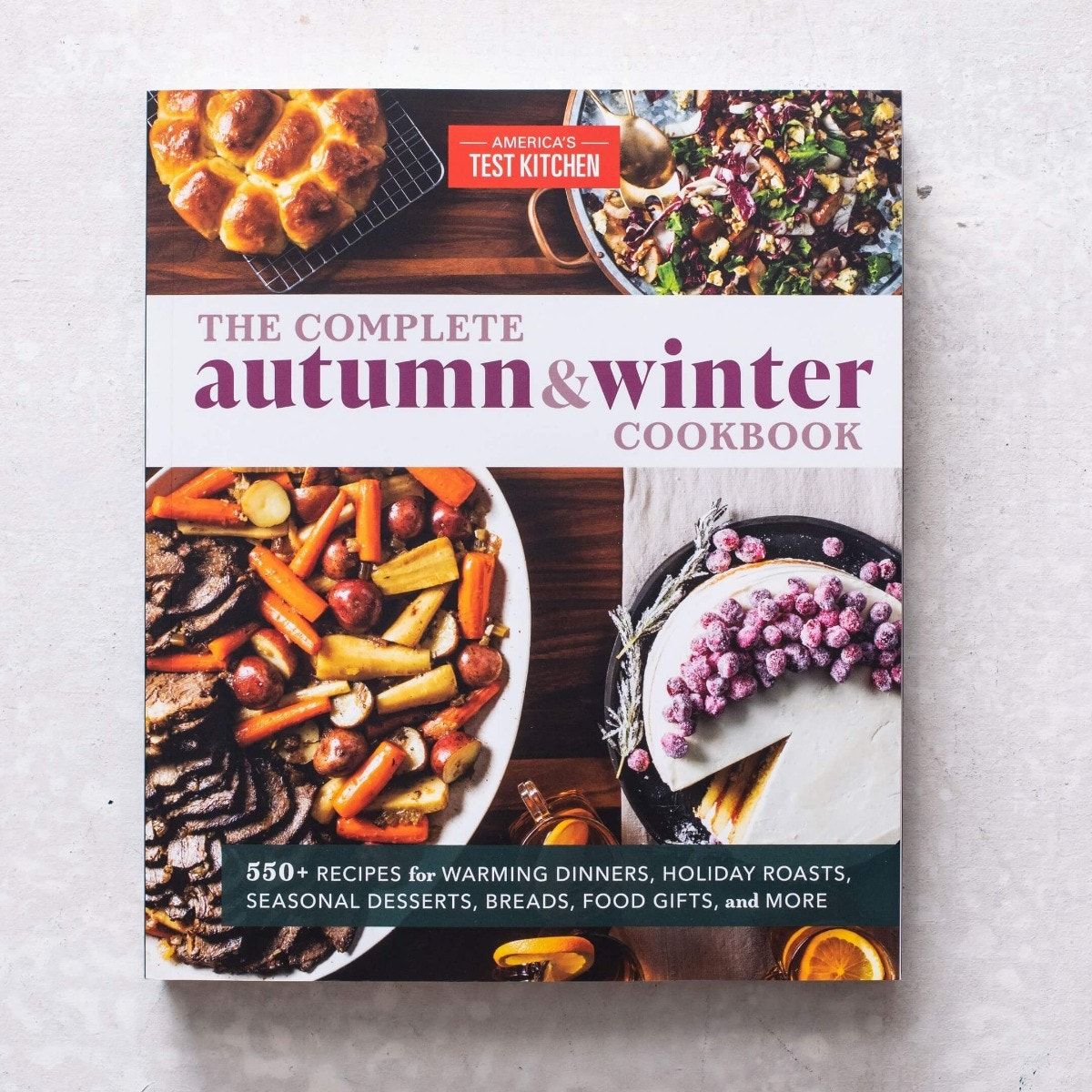 Missing, sadly, are any recipes incorporating cocoa nibs (the only index entry under 'cocoa' is a sidebar on the differences between natural and Dutched cocoa powder), but even the most cursory scan of the book reveals dozens of recipes – both savory and sweet – that could easily be enhanced by the addition of nibs in some form.
One way I am adding cocoa nibs to recipes this season is through grinding toasted nibs with black pepper or a tri-color pepper blend with other spices in an electric (blade) spice grinder. (Try cocoa nibs and coffee beans!) An obvious use is in rubs but I find the combination works to spice up roasted vegetables and savory baked goods as well.
My favorite aspect of this book is the intro to each recipe: "Why this recipe works," which I find to be very useful as they provide a short description (shorter than you would find in a Cooks Illustrated recipe, anyway) of some of the science (physics and chemistry) behind the techniques involved.
For me, this is what makes this cookbook so attractive – the recipes are learning experiences, not just lists of ingredients with the accompanying method.
Alternatively, Buy on Amazon (affiliate link – your purchase helps support TCL).
---
The Secret Life of Chocolate
by Marcos Patchett
This book is for anyone and everyone looking to learn more about the pre-Hispanic history of cacao and chocolate and will be especially interesting and valuable as a complement to Sophie & Michael Coe's The True History of Chocolate (make sure to get the 3rd edition, linked to below, if you don't already own a copy.
---
The True History of Chocolate, 3rd edition
by Sophie & Michael Coe
---
GEAR
Brod & Taylor
Folding Proofer / Fermenter / Chocolate Melter / Slow Cooker
I have a small kitchen with not much of either counter or storage space so I am constantly on the lookout for versatile multi-tasking appliances that stow away easily when I am not using them. In addition to proofing (sourdough, anyone?), you can melt chocolate, keep colored cocoa butter warm and make cocoa butter silk, ferment yogurt, and even slow cook a meal.
---
KitchenAid
Blade Coffee and Spice Grinder Combo Pack
On this highly-rated blade grinder the s/s bowl for grinding coffee is removable (for easy cleaning and to make the transfer of coffee grounds to the coffee maker easier) and there are separate spice grinding accessories.
---
Want to Support TheChocolateLife This Holiday Season?
Become an Annual Member or upgrade your existing monthly membership and save 20% ($30) of the first year's fee.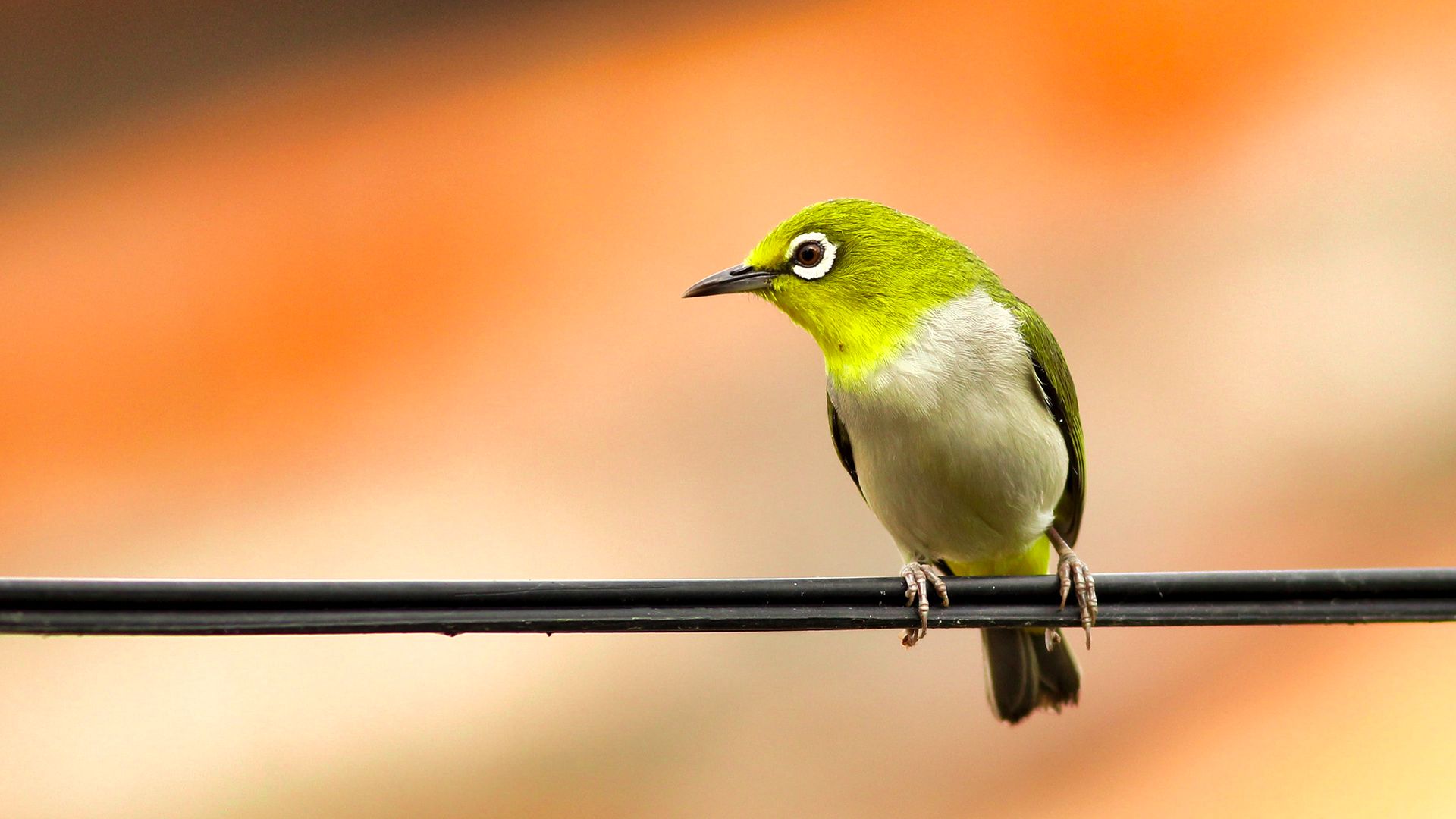 OR send me a gift of reading material or podcast support gear from my Amazon Wishlist,
---
Featured Image: Original by Kira auf der Heide on Unsplash.
Post-processed by the author using LuminarAI (Skylum referral link) and Photoshop Elements.
---